Today we celebrate the Feast of St. Andrew, who was a follower of John the Baptist; when John pointed to the Lamb of God, Andrew recognized Jesus as the Messiah, and was quick to introduce him to his brother, Simon. Simon would later become the first pope, of course; but both brothers were crucified in witness to Christ.
In today's Gospel, we witness Jesus' call to the brothers, right in the midst of their work as fishermen, right as they are casting their nets into the sea. He calls them to follow him, and promises to make them "fishers of men," a term we have all heard, but which they could not have fully understood. Still, they left their nets "at once…and followed him." They dropped what they were doing, walked away from the life they knew very well, and entered into the adventure that is the life of faith, without asking any questions or pausing to make any calculations about the future. This is a model for all of us in our walk with Christ – to follow him without any reservations, hesitations, or calculations! The spiritual life requires profound faith and limitless trust, like that of St. Andrew.
The long and rich tradition of the Church means that various places have invoked his intercession for various needs, and so he has become the patron saint of Greece (where he probably brought the Gospel), Russia, Scotland (where some of his relics were taken for safety in the 350s; the Scottish flag features St. Andrew's saltire – X shaped – cross!), Romania, Ukraine, the Amalfi coast, and Barbados, as well as many cities in Spain; he is also the patron saint of singers, spinsters, maidens, fishermen, fishmongers, and women hoping to be mothers, and is invoked against gout and sore throats!
As another part of our tradition, many people pray the St. Andrew Christmas Novena beginning today. It is traditionally prayed 15 TIMES A DAY each day for 25 days, ending on Christmas Eve. It can be a very meditative prayer that helps us to keep the spiritual meaning of this great season alive in our hearts:
Hail and blessed be the hour and moment In which the Son of God was born of the most pure Virgin Mary at midnight, in Bethlehem, in the piercing cold. In that hour vouchsafe, I beseech Thee, O my God, to hear my prayer and grant my desires (mention request), through the merits of Our Savior Jesus Christ and of His blessed Mother. Amen.
---
Hoy celebramos la Fiesta de San Andrés, quien fue seguidor de Juan Bautista; cuando Juan señaló al Cordero de Dios, Andrés reconoció a Jesús como el Mesías y se apresuró a presentárselo a su hermano Simón. Simon se convertiría más tarde en el primer Papa, por supuesto; pero ambos hermanos fueron crucificados en testimonio de Cristo.
En el Evangelio de hoy somos testigos de la llamada de Jesús a los hermanos, en pleno trabajo de pescadores, en el momento en que echan las redes al mar. Él los llama a seguirlo y promete hacerlos "pescadores de hombres", un término que todos hemos escuchado, pero que ellos no podrían haber entendido completamente. Aun así, dejaron sus redes inmediatamente y lo siguieron. Dejaron lo que estaban haciendo, se alejaron de la vida que conocían muy bien y entraron en la aventura que es la vida de fe, sin hacer preguntas ni detenerse a hacer cálculos sobre el futuro. Este es un modelo para todos nosotros en nuestro caminar con Cristo: ¡seguirlo sin reservas, vacilaciones o cálculos! La vida espiritual requiere una fe profunda y una confianza ilimitada, como la de San Andrés.
La larga y rica tradición de la Iglesia hace que en varios lugares se haya invocado su intercesión para diversas necesidades, por lo que se ha convertido en el santo patrón de Grecia (donde probablemente llevó el Evangelio), Rusia, Escocia (donde fueron llevadas algunas de sus reliquias por seguridad en los años 350, la bandera escocesa presenta el saltire de San Andrés, en forma de X, ¡cruz!), Rumania, Ucrania, la costa de Amalfi y Barbados, así como muchas ciudades de España; es también el santo patrón de las cantoras, las solteronas, las doncellas, los pescadores, los pescaderos y las mujeres que esperan ser madres, ¡y es invocado contra la gota y los dolores de garganta!
Como otra parte de nuestra tradición, muchas personas rezan la Novena de Navidad de San Andrés a partir de hoy. Se reza tradicionalmente 15 VECES AL DÍA durante 25 días, terminando en la Nochebuena. Puede ser una oración muy meditativa que nos ayude a mantener vivo en nuestros corazones el significado espiritual de esta gran temporada:
Salve y bendita sea la hora y el momento en que el Hijo de Dios nació de la purísima Virgen María a medianoche, en Belén, en un frío portal. En esa hora concédete, te suplico, oh Dios mío, que escuches mi oración y concedas mis deseos (mencionar petición), por los méritos de Nuestro Salvador Jesucristo y de Su Santísima Madre. Amén.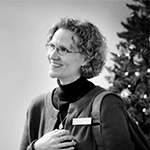 Kathryn Mulderink, MA, is married to Robert, Station Manager for Holy Family Radio. Together they have seven children (including Father Rob), and seven grandchildren. She is President of the local community of Secular Discalced Carmelites and has published five books and many articles. Over the last 30 years, she has worked as a teacher, headmistress, catechist, Pastoral Associate, and DRE, and as a writer and voice talent for Catholic Radio. Currently, she serves the Church by writing and speaking, and by collaborating with various parishes and to lead others to encounter Christ and engage their faith. Her website is www.KathrynTherese.com
Feature Image Credit: Ryan Yao, https://unsplash.com/photos/5mngWGRZguI