What even is faith? More than just a blind leap to things we can't know, faith is an acknowledgement that God is above us and we should trust him in the things he reveals. If the truths of the world are reasonable and we can believe them using logic, philosophy, and science, then faith is supra-reasonable. That is, it is beyond the physical world and allows us to enter into the very life of God.
Why so much talk about faith? Well, the Apostles knew how hard it was to believe some of the things Jesus said. In today's Gospel they are encountered with teachings they may not quite understand. Their response was to pray for more faith. They call out to Jesus and ask him to make their faith stronger.
This shows us a couple of things. Sometimes we think that faith relies solely on us. Like we have to work really hard to gain faith and if we work even harder then our faith will grow. But here, it is made clear that having faith at all starts with God. He starts the process of faith. He is the one who makes faith possible for us. On top of that, the Gospel shows that if we ask for faith God is not only faithful but he is super faithful. If we even ask for faith the size of a mustard seed we will be able to do the seemingly impossible.
So this all leads to a very important question. When was the last time you prayed for and expected faith from God? He is telling us to ask. He wants us to grow in faith every day and wants to bless us with these truths that are beyond the reason we can come to on our own. Do we believe that what Jesus said in this Gospel is true even today? Do we believe that with faith as small as a mustard seed we can do anything? If not, ask for the grace of faith. From all of us here at Rodzinka Ministry, God bless!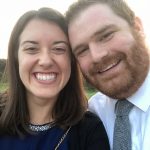 Tommy Shultz is the Founder/Director of Rodzinka Ministry and a content specialist for Ruah Woods, a Theology of the Body Ministry. In these roles, he is committed to bringing all those he meets into a deeper relationship with Christ. Tommy has a heart and flair for inspiring people to live their faith every day. He has worked in various youth ministry, adult ministry, and diocesan roles. He has been a featured speaker at retreats and events across the country. With a degree in Theology from Franciscan University, Tommy hopes to use his knowledge to help all people understand the beauty of The Faith.
Feature Image Credit: Tony Eight Media, https://unsplash.com/photos/iy34kwDyJ4E