"…knowing that affliction produces endurance, and endurance, proven character, and proven character, hope, and hope does not disappoint, because the love of God has been poured out into our hearts through the Holy Spirit that has been given to us."
This reading from Romans for the Memorial of St. Blase is a personal favorite. I love the connection St. Paul makes from my afflictions, whatever those hurtful, annoying, stressful situations in my life may be, to the love of God being poured into my heart.
One of my favorite aspects is that there are so many steps between affliction and receiving God's love. God isn't a big ol' vending machine in the sky, where I insert a prayer and he sends out what I want. There is a connection between all that is happening in this world and God's greater plan for us, but we don't make a single leap to God, we have to climb every single one of those little steps of the ladder.
It is all because God knows us so well! He knows we want it all and we want it now. He knows we will keep making grand leaps and attempting to love with our own strength and will fall with a dramatic flop when we fail. And He knows that isn't what is best for us. That we have to do it in tiny steps. We have to hand it over to him, one small act at a time.
When we bear our afflictions with patience and love, we are given endurance. When we endure with humility and charity, our character is proven. When our character is proven, hope arises. And hope always leads to love. Come, Holy Spirit. Help me to live the step that I am on today and trust that tomorrow, you will lead me one step higher.
---
"…porque sabemos que el sufrimiento produce perseverancia; la perseverancia, entereza de carácter; la entereza de carácter, esperanza. Y esta esperanza no nos defrauda, porque Dios ha derramado su amor en nuestro corazón por el Espíritu Santo que nos ha dado."
Esta lectura de Romanos para el Memorial de San Blas es una de mis favoritas. Me encanta la conexión que hace San Pablo con mis aflicciones, sean cuales sean las situaciones dolorosas, molestas y estresantes de mi vida, con el amor de Dios que se derrama en mi corazón.
Uno de mis aspectos favoritos es que hay tantos pasos entre la aflicción y recibir el amor de Dios. Dios no es una gran máquina expendedora en el cielo, donde le mando una oración y él envía lo que quiero. Hay una conexión entre todo lo que está pasando en este mundo y el gran plan de Dios para nosotros. Pero no damos un solo salto hacia Dios, sino tenemos que subir cada una de esas pequeñas escalas de la escalera.
¡Todo es porque Dios nos conoce muy bien! Él sabe que queremos todo y lo queremos ahora. Él sabe que seguiremos dando grandes saltos e intentando amar con nuestras propias fuerzas y caeremos con un fracaso dramático cuando fallemos. Y Él sabe que eso no es lo mejor para nosotros, que tenemos que hacerlo en pequeños pasos. Tenemos que entregarlo a él, un pequeño acto a la vez.
Cuando sobrellevamos nuestras aflicciones con paciencia y amor, se nos da paciencia. Cuando aguantamos con humildad y caridad, nuestro carácter queda probado. Cuando se prueba nuestro carácter, surge la esperanza. Y la esperanza siempre conduce al amor. Ven, espíritu santo. Ayúdame a vivir el paso en que me encuentro hoy y confiar en que mañana me llevarás un paso más alto.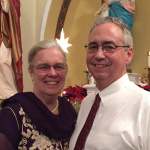 Sheryl is happy to be the number 1 cheerleader and supporter for her husband, Tom who is a candidate for the Permanent Diaconate in the Diocese of Kalamazoo. They are so grateful for the opportunity to grow together in this process. Sheryl's day job is serving her community as the principal for St. Therese Catholic School in Wayland, Michigan. Since every time she thinks she gets life all figured out, she realizes just how far she has to go, St. Rita of Cascia is her go-to Saint for intercession and help. Home includes Carlyn, a very, very goofy Golden Retriever and Lucy, our not-so-little rescue puppy.
Feature Image Credit: Mike Lewinski, unsplash.com/photos/iURMH0Lrz8Y