"And suddenly there will come to the temple the Lord whom you seek, and the messenger of the covenant whom you desire. Yes, he is coming…" (Mal 3).
This is what the Jewish people, the Chosen People, awaited and longed for, and what the righteous and devout man Simeon was awaiting for so many years. And this is what we celebrate today: the Lord, the Word Incarnate, who has come to save his people, entering the Temple at last.
But he does not enter as a King or a Prophet or a Revolutionary. He is carried into the Temple as an infant, by his impoverished parents, to be presented according to the law of Abraham, because "he had to become like his brothers and sisters in every way" (Heb 2). Like all male children, he was brought to the Temple to be dedicated to the Lord 40 days after his birth.
But this infant is the Light of the World, as Simeon's words remind us: "My eyes have seen your salvation… a light for revelation to the Gentiles, and glory for your people Israel." Because we use lit candles to symbolize Christ, the true Light of the World, this has traditionally been the day that candles are blessed in the Church since the 7th century (so it is sometimes called "Candlemas"). As we celebrate the Light entering the Temple at last, the celebration begins with a procession and blessing of candles and ends with candles being taken back to bring Christ's light to our homes.
Blessed candles are a sacramental – an object of faith like statues, medals, and crucifixes, which help us remain close to Christ and ask for grace throughout our day; we use them because Faith is not just a weekend or church event, but a light that should shine on every aspect of our lives! These candles blessed at Candlemas can be used at prayer time, during storms and troubled times, and during times of illness. Lighting a candle is a beautiful way to signal to the family that it is time to pray – not just to create a "mood," but to remind us of the Light of Christ within our homes. Like the fire of love and hope in our hearts, the steady flame of a blessed candle is like a constant prayer being lifted up to God.
What are some new ways you can use blessed candles in your home?
---
"De improviso entrará en el santuario el Señor, a quien ustedes buscan, el mensajero de la alianza a quien ustedes desean. Miren: Ya va entrando…" (Mal 3)
Esto es lo que el pueblo judío, el Pueblo Elegido, esperaba y anhelaba, y lo que el justo y piadoso Simeón esperaba desde hace tantos años. Y esto es lo que celebramos hoy: el Señor, el Verbo Encarnado, que ha venido a salvar a su pueblo, entrando por fin en el Templo.
Pero no entra como Rey, ni como Profeta, ni como Revolucionario. Lo llevan al Templo como un niño, por sus padres empobrecidos, para ser presentado según la ley de Abraham, porque "por eso tuvo que hacerse semejante a sus hermanos en todo" (Heb 2). Como todos los niños varones, fue llevado al Templo para ser dedicado al Señor 40 días después de su nacimiento.
Pero este niño es la Luz del Mundo, como nos recuerdan las palabras de Simeón: "mis ojos han visto a tu Salvador…luz que alumbra a las naciones y gloria de tu pueblo, Israel" Debido a que usamos velas encendidas para simbolizar a Cristo, la verdadera Luz del Mundo, este ha sido tradicionalmente el día en que se bendicen las velas en la Iglesia desde el siglo VII (por eso hoy también se llama "Día de la Candelaria"). Mientras celebramos la entrada de la Luz al Templo por fin, la celebración comienza con una procesión y la bendición de las velas y termina con la devolución de las velas para llevar la luz de Cristo a nuestros hogares.
Las velas benditas son un sacramental: un objeto de fe como estatuas, medallas y crucifijos, que nos ayudan a permanecer cerca de Cristo y pedir gracia a lo largo de nuestro día; los usamos porque la fe no es solo un fin de semana o un evento de la iglesia, sino una luz que debe brillar en todos los aspectos de nuestras vidas. Estas velas bendecidas en la Candelaria se pueden usar en momentos de oración, durante tormentas y tiempos difíciles, y durante épocas de enfermedad. Encender una vela es una forma hermosa de indicarle a la familia que es hora de orar, no solo para crear un "estado de ánimo", sino para recordarnos la Luz de Cristo dentro de nuestros hogares. Como el fuego del amor y la esperanza en nuestros corazones, la llama constante de una vela bendita es como una oración constante que se eleva a Dios.
¿Cuáles son algunas formas nuevas en las que puedes usar velas benditas en tu hogar?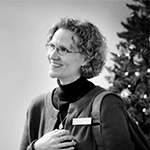 Kathryn Mulderink, MA, is married to Robert, Station Manager for Holy Family Radio. Together they have seven children (including Father Rob), and seven grandchildren. She is President of the local community of Secular Discalced Carmelites and has published five books and many articles. Over the last 30 years, she has worked as a teacher, headmistress, catechist, Pastoral Associate, and DRE, and as a writer and voice talent for Catholic Radio. Currently, she serves the Church by writing and speaking, and by collaborating with various parishes and to lead others to encounter Christ and engage their faith. Her website is www.KathrynTherese.com
Feature Image Credit: Fernando Vasquez, cathopic.com/photo/15817-luz-de-cristo