"Some of the scribes and Pharisees said to Jesus, 'Teacher, we wish to see a sign from you.' He said to them in reply, 'An evil and unfaithful generation seeks a sign, but no sign will be given it except the sign of Jonah the prophet.'" Matthew 12:38-39
Have you ever finished a time of prayer and realized that all you did the entire time was ask God for things? And maybe even worse than that, you didn't have the faith that it would really happen. I know I have struggled with this a lot in my prayer life. The Scribes and Pharisees struggled with this today in the Gospel.
Petition is an important form of prayer, but the Catechism outlines five total forms of prayer that we should be aware of to draw closer to Christ.
These forms are adoration, petition, intercession, thanksgiving, and praise. I am going to try this week to focus more on contemplative prayer which involves adoration. Just sitting before God and adoring Him because He is. Let's ask for this grace together. Amen.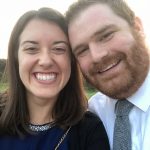 Tommy Shultz is a Solutions Evangelist for Diocesan. In that role, he is committed to coaching parishes and dioceses on authentic and effective Catholic communication. Tommy has a heart and a flair for inspiring people to live their faith every day. He has worked in various youth ministry, adult ministry, and diocesan roles. He has been a featured speaker at retreats and events across the country. His mission and drive have been especially inspired by St. John Paul II's teachings. Tommy is blessed to be able to learn from the numerous parishes he visits and pass that experience on in his presentations. Contact him at tshultz@diocesan.com.