"Shepherd your people with your staff…" As I read these initial words of today's first reading I recall one of my favorite images of Jesus as the Good Shepherd. I love looking at the sheep all around Him, each with their own attitude and personality. A newborn lamb is perched precariously on His shoulders, so proud of the fact that he was the one chosen to be held by the Lord. Another walks in front of Jesus, head held high as if leading the way. Another walks meekly alongside Him, just content to be close to Him. Another looks up at Him trying to gauge what He's thinking. Another looks to the side, constantly aware of his surroundings in his attempt to protect Jesus. Yet another trails behind with his nose to the ground, just following the crowd, apparently not even realizing he is in the presence of the Master.
As I amuse myself musing over the sheep, I realize that we, His flock, are not much different. Some of us are proud, others confident, others meek, others curious, others protective, and others clueless. We are all so different, yet we are all so loved.
As the middle child of a large Catholic family, I often sought individualized attention from my parents, wanting to be the "special" one. I worked hard to get good grades in order to earn their approval. I helped my dad with projects around the house to earn his praise. I wanted to be good at everything I did. Perhaps I longed to be that baby lamb held on the Lord's shoulders, thinking this was the best place to be, the place for the privileged or the "especially loved".
I'm pretty sure we all long to be loved this way, many Gospel stories sure seem to confirm it, but the good news is that in Christ, we all can! In fact, Jesus speaks to this in today's Gospel.
"Who is my mother? Who are my brothers?" And stretching out his hand toward his disciples, he said, "Here are my mother and my brothers." (Matthew 12: 48-49)
He confirms that not only one person has the privilege of that close mother-son relationship, nor do only a handful enjoy the tight-knit friendship of brotherhood. As long as we are doing His will, we can all have that closeness, that intimacy. In God, each of us is truly and individually treasured and loved in the way our heart desires. So maybe I am that special baby lamb after all, and so are you!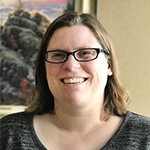 Tami Urcia is wife and mother to her small army of boys. She works full time at Diocesan and is a freelance translator and blogger (BlessedIsshe.net and CatholicMom.com) She loves tackling home projects, keeping tabs on the family finances, and finding unique ways to love. Tami spent early young adulthood as a missionary in Mexico, then worked and traveled extensively before finishing her Bachelor's Degree. Her favorite things to do are spending time outside with the kiddos, quiet conversation with the hubby, and an occasional break from real life by getting a pedicure or a haircut. You can find out more about her here.