It's no coincidence that the words "discipline" and "disciple" both have the same Latin root of "discipulus," which means follower, disciple, student, pupil or trainee. Taking that first word of follower, though, a disciple is one who follows another and helps to spread their teachings while discipline helps to train people to follow a certain set of rules, guidelines or behaviors.
Let's look at these similarities with eyes of faith, though. To be a disciple, simply put, is to be a follower of Jesus Christ during your lifetime. Being a disciple is not limited to those who lived during the time of Jesus and who chose to follow Him. Rather, it is something that each of us, you and I, are called to be today, and not just today but everyday of our lives.
Our faith calls us to be disciplined in many respects. We are expected to strive for virtue while also trying to avoid sin. We are called to spend time with the Lord each day in prayer. We are obliged to attend Mass every Sunday. And these are just a few examples.
These are essential practices of our faith. These are the ways in which we become a disciple of Jesus Christ. It takes practice. Discipleship requires action. It requires our response. Our faith is an active faith, not passive, and Jesus Christ is a living person, not dead. Therefore, we can't just expect to go through the motions and hope it is enough. Jesus deserves all of ourselves, our whole life, our fullest yes. He offers us something much too great for an apathetic response – He wants our "yes," not our "whatever." And He asks for this yes to follow Him, to be His disciple, not just once but every day of our lives.
The First Reading takes discipline one step further. With discipline sometimes comes reproval; however, it comes from a place of love. Because God loves us so deeply and because He desires to spend eternity with us, He calls us to follow the commands He gave us. But He also gave us the gift of free will – He wants us to freely choose Himself. The reproval comes when we fail to choose the Lord.
How disciplined are you in your relationship with the Lord? Do you readily call yourself a disciple of Jesus Christ? Or is there work you need to do?
---
No es casualidad que las palabras "disciplina" y "discípulo" tengan la misma raíz latina de "discipulus", que significa seguidor, discípulo, estudiante, alumno o aprendiz. Sin embargo, tomando esa primera palabra de seguidor, un discípulo es alguien que sigue a otro y ayuda a difundir sus enseñanzas, mientras que la disciplina ayuda a entrenar a las personas para que sigan un determinado conjunto de reglas, pautas o comportamientos.
Sin embargo, veamos estas similitudes con los ojos de la fe. Ser discípulo, en pocas palabras, es ser seguidor de Jesucristo durante la vida. Ser discípulo no se limita a aquellos que vivieron durante el tiempo de Jesús y que optaron por seguirlo. Más bien, es algo que cada uno de nosotros, tú y yo, estamos llamados a ser hoy, y no solo hoy, sino todos los días de nuestras vidas.
Nuestra fe nos llama a ser disciplinados en muchos aspectos. Se espera que luchemos por la virtud y tratar de evitar el pecado. Estamos llamados a pasar tiempo con el Señor cada día en la oración. Estamos obligados a asistir a misa todos los domingos. Y estos son solo algunos ejemplos.
Estas son prácticas esenciales de nuestra fe. Estas son las formas en que nos convertimos en discípulos de Jesucristo. Requiere la práctica. El discipulado requiere acción. Requiere nuestra respuesta. Nuestra fe es una fe activa, no pasiva, y Jesucristo es una persona viva, no muerta. Por lo tanto, no podemos simplemente esperar hacer los movimientos y esperar que sea suficiente. Jesús merece todo de nosotros, toda nuestra vida, nuestro sí más pleno. Él nos ofrece algo demasiado grande para una respuesta apática: Él quiere nuestro "sí", no nuestro "lo que sea". Y pide este sí para seguirlo, para ser su discípulo, no una vez sino todos los días de nuestras vidas.
La Primera Lectura lleva la disciplina un paso más allá. Con la disciplina a veces viene la reprobación; sin embargo, viene de un lugar de amor. Debido a que Dios nos ama tan profundamente y desea pasar la eternidad con nosotros, nos llama a seguir los mandamientos que nos dio. Pero también nos dio el don del libre albedrío: quiere que nos elijamos libremente. La reprobación viene cuando no elegimos al Señor.
¿Cuán disciplinado eres en tu relación con el Señor? ¿Dirías sin titubear que eres un discípulo de Jesucristo? ¿O hay algo que tienes que mejorar?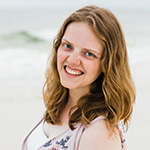 Erin is a Cleveland native and graduate of Franciscan University of Steubenville. She is passionate about the Lord Jesus, all things college sports and telling stories and she is blessed enough to get paid for all three of her passions as a full-time youth minister and a freelance sports writer.
Feature Image Credit: Dave Lowe, unsplash.com/photos/kkQ7oxgQKeM