Today's Gospel is not, "Peace I leave with you; my peace I give to you. I do not give to you as the world gives. Do not let your hearts be troubled, and do not let them be afraid" (John 14:27). It is, however, the words from Jesus that pop into my head as I read, "When you hear of wars and insurrections, do not be terrified; for such things must happen first, but it will not immediately be the end" (Luke 21:9). For years, I lived in an almost constant state of terrified; allowing the cares and worries of this world to overcome me. I longed for a life completely devoid of any troubles, challenges, or threats of utter destruction.
I know that's too much to ask; that's not how this fallen world works, but if I'm being honest, that freedom from all things catastrophic is precisely what I want and partially the reason I returned to the Catholic faith over twenty years ago. When I first returned to Mass and practiced my faith, I must admit I mistakenly concluded that if I followed all of God's Commandments and the teachings of Jesus as best I could, it would open some special privilege of a perfect life. In a way, it is an ideal life, just not as this world defines it.
Surrendering my life to Christ has afforded me a peace, as Jesus points out in John 14, that this world does not and cannot give. As I continued to study, pray, contemplate, and partake in the Catholic Liturgies, as well as the traditions and devotions of the Church, I truly experienced that promised peace. The waves came, and the winds blew, but my heart has remained untroubled, trusting and relying on the love of God to carry me through every storm. Although I persevere, faithful and hopeful, truth be told, I would still like to avoid "Nation [rising] against Nation, and kingdom against kingdom. [And] powerful earthquakes, famines, and plagues from place to place" (Luke 21:11).
---
El evangelio de hoy no es: "La paz les dejo, mi paz les doy. Yo no les la doy como la da el mundo. No se turben sus corazones, ni tengan miedo" (Juan 14: 27). Sin embargo, son las palabras de Jesús las que me vienen a la cabeza cuando leo: "Cuando oigan hablar de guerras y revoluciones, que no los domine el pánico, porque eso tiene que acontecer, pero todavía no es el fin" (Lucas 21:9). Durante años, viví en un estado casi constante de terror; permitiendo que los afanes y preocupaciones de este mundo me venzan. Anhelaba una vida completamente libre de problemas, desafíos o amenazas de destrucción total.
Sé que es mucho pedir; así no es como funciona este mundo caído, pero si soy honesto, esa libertad de todas las cosas catastróficas es precisamente lo que quiero y en parte la razón por la que regresé a la fe católica hace más de veinte años. Cuando regresé a misa por primera vez y practiqué mi fe, debo admitir que llegué a la conclusión errónea de que si seguía todos los mandamientos de Dios y las enseñanzas de Jesús lo mejor que pudiera, abriría el privilegio especial de una vida perfecta. En cierto modo, es una vida ideal, pero no como la define este mundo.
Entregar mi vida a Cristo me ha dado una paz, como lo señala Jesús en Juan 14, que este mundo no da ni puede dar. Mientras continuaba estudiando, orando, contemplando y participando en las liturgias católicas, así como en las tradiciones y devociones de la Iglesia, experimenté verdaderamente esa paz prometida. Las olas llegaron y los vientos soplaron, pero mi corazón se ha mantenido tranquilo, confiando y apoyándose en el amor de Dios para que me lleve a través de cada tormenta. Aunque persevero, fiel y esperanzado, la verdad sea dicha, todavía quisiera evitar que "Se levantará una nación contra otra y un reino contra otro… grandes terremotos, epidemias y hambre." (Lucas 21: 11).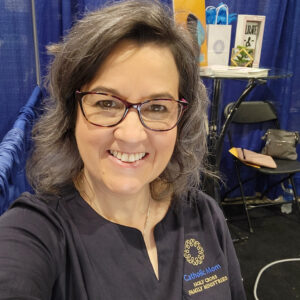 Allison Gingras ( www.ReconciledToYou.com ) — Shares her love of the Catholic Faith with stories, laughter, and honesty as experienced in the ordinary of life! Her writing includes Encountering Signs of Faith (Ave Maria Press) and the Stay Connected Journals for Women (OSV). Allison is a Catholic Digital Media Specialist for Family Rosary, Catholic Mom, and the Fall River Diocese. She hosts A Seeking Heart podcast and is co-host of the Catholic Momcast podcast.
Feature Image Credit: Stefan Wise LC, https://cathopic.com/photo/1237-admirando-el-atardecer
The views and opinions expressed in the Inspiration Daily blog are solely those of the original authors and contributors. These views and opinions do not necessarily represent those of Diocesan, the Diocesan staff, or other contributors to this blog.