"They'll do the right thing if I have to drag them kicking and screaming all the way!" Ever said anything like this? I know I have and if you are like me, we are in good company with St. James whose feast day is today. James and John (in Matthew, it is their mother who approaches Jesus; in Mark, it is the brothers themselves) desire to be at the left and right hands of Jesus; the positions of power for those who know the King. They are looking to be in the positions of authority when Jesus comes into his kingdom. A clue to how they see using that authority, comes in St. Luke's Gospel, when the Samaritans did not welcome Jesus, James and John ask Jesus if he wanted them to call "fire down from heaven to consume them."
This phrase, "if I have to drag them kicking and screaming," came up in an argument with someone I admire and respect recently. We were having a rather heated discussion about how to lead a team to "do the right thing." Our goal was admirable. We were discussing a plan for how to become more open, to go out of our comfort zone to reach out to others.
But somehow, for all our good intentions, we got lost. I mean really lost. The Good Lord knows I have used this exact same phrase more than a few times in my years as a school or parish leader. But somehow hearing it in this context shocked me as surely as if I had touched a live electrical wire. Within 2 days, someone else made a very similar comment to me about bringing people along, even against their wishes. I get it, I have been so sure that I knew the right solution that I just had to get others to see it my way to make it all work out. Just follow my plan and all will be well.
The Samaritans reject Jesus, so James and John plan to rain fire from heaven to make them change their minds and accept Jesus.
Jesus rebuked them and today's reading rebukes those of us who attempt to use power or authority to overpower others. Jesus shows us that true leadership is humble. The purpose of leadership is to serve. Leaders who follow Jesus must first strive to be servants. Leaders who follow Jesus are not to impose their will on others, but to create opportunities for others to encounter our living God and to find their purpose in serving His will.
We humans, leaders included, are earthen vessels. We are fragile, afflicted, perplexed and persecuted. And that is a good thing! It is precisely because of our fragile, afflicted, perplexed, and persecuted state that God can be glorified. "Indeed, everything is for you, so that the grace bestowed in abundance on more and more people may cause thanksgiving to overflow to the glory of God."
Of all of today's readings, it is the Gospel Acclamation that pierced my heart. "I chose you from the world, to go and bear fruit that will last, says the Lord."
Whatever my plans are, it is God's plan that will bear fruit that will last.
Even when we find ourselves in a leadership position, God's plan is for us to be servants. In order to serve Him, we must serve one another. In order to serve Him, we must serve those who look to us for leadership, we must serve those who lead us and we must even serve those with whom we flat out disagree. This is certainly antithetical to how the world views leadership. James and John were looking for power in the kingdom they thought was to come. Jesus shows us that his kingdom is already here and he has chosen us to go forth into the kingdom and bear fruit through humility and charity.
Heavenly Father, Please send your Holy Spirit to inspire me to lead with humility, to remember in order for my plans to bear fruit, my plans must be your plans, and your plans always include serving first. Help me to do, not just the right thing, but to do your thing. Amen. Glory to God.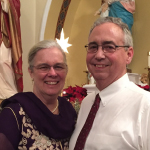 While wearing many hats, Sheryl O'Connor is the wife and study buddy of Thomas O'Connor. Not having received the gift of having their own children, their home is filled with 2 large dogs and their hearts with the teens and youth with whom they work in their parish collaborative. Sheryl is the Director of Strong Families Programs for Holy Family Healthcare which means her job is doing whatever needs to be done to help parents build strong Catholic families. Inspired by the works of mercy, Holy Family Healthcare is a primary healthcare practice in West Michigan which seeks to honor the dignity of every individual as we would Christ. Find out more at https://www.holyfamilyhealthcare.org/