While praying with today's readings, my mind kept being pulled to the following two lines in the Gospel: "Teacher, we know that you are a truthful man and that you are not concerned with anyone's opinion. You do not regard a person's status but teach the way of God in accordance with the truth." I also am drawn to a line in the first reading from 2 Peter 3:17, "Therefore, beloved, since you are forewarned, be on your guard not to be led into the error of the unprincipled and to fall from your own stability."
My own stability is in the way of God, in accordance with the truth, but it hasn't always been. It is so easy to be led into the error of the unprincipled, to be caught up in a passionate speech of half truths. I keep thinking of all the terrible illustrations in our human history that whip up popular sentiment and leads people to terrible things because they are told to believe a lie. "A wall will protect us", "a vulnerable life is easily dismissed or disposable", "someone who has a different way of life or color of skin has a different worth than me". This is where my fall from stability can come into play if I am not aware of the truth or choose to ignore the truth.
It is usually very controversial to address the half truth; to call out the lie and state the truth. I have to be as Casting Crowns sings, to "Love You with the Truth." Why is it that speaking the truth (in love) can be so threatening to others? Is it because we might realize that we're wrong, that so many mistakes have been made and have to be accounted for and atoned? Atonement is, after all, what allows us to be "Free".
I would like to believe I am a truthful woman. I do ponder though, how concerned am I with the opinions of others. I can struggle with doubt. I can struggle with the opinions of others, especially when I neglect to be grounded in the teachings of the Gospel. I find His truth in my surroundings and today I was called to these embedded songs (from my long ago youth ministry days). I hope you take a moment to listen to His voice in these songs. Don't fall into the trap of forgetting that "I Believe in God". Know your focus is to be on His love and His truth spoken through His son Jesus Christ. The truth will "set you free".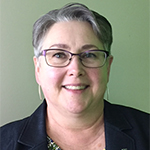 Beth Price is a Secular Franciscan (OFS) and spiritual director who has worked in several parish ministry roles during the last 20 years. She is a proud mother of 3 adult children. Beth currently works at Diocesan.