Pharisees. As we read through Mark's Gospel, we see Jesus making enemies when he is only trying to hold out the truth to them (have you ever felt like this?). The Pharisees are the ones who hold themselves above everyone else because they know the law up and down, inside and out. And they follow the law. Scrupulously. Not just the Scriptural law, but the hundreds – HUNDREDS – of traditional interpretations of that law. In their (self-determined) superiority, they ruled over the people and in their (self-determined) self-righteousness, they looked down on all others.
This is what humans will do. Because we are fallen, and we are free. So wherever there are rules, there will be a tendency for some to act like the Pharisees. There will always be some who assure themselves that they are doing things properly because they are obeying the precise letter of "the law." And it never ends there! For those who think and operate like the Pharisees, there will always be a tendency to nitpick the (self-determined) failures of others.
At some point on the spiritual journey, most of us become hyper-aware of "the rules" and work hard to conform ourselves, our behavior, our habits, to those rules. Saying specific prayers, attending Mass, confessing our sins, and practicing other devotions are good things! But the enemy can turn these good things into emblems of (self-determined) righteousness, and even tempt us to think we are better than others. We may even be tempted to look down on others or begin to nitpick inessential details. This is not the point of the rules the Church gives us!
If we do these "good things" just to "be good Catholics", we are missing the essential thing. Religion is not about following rules (though the rules are certainly the guardrails that keep us on the road and not in the ditch!). All of the many practices and devotions in the Church have one essential goal: to help us encounter and love Jesus Christ, who alone is holy!
We are made to glorify HIM, and not ourselves.
The Pharisees were glorifying THEMSELVES, and not God.
In their (self-determined) righteousness, the Pharisees refused to let Jesus' transforming love heal their hardened hearts so that their lives could open up to the unimaginably broad horizons of God's will for them. We can do the same thing – God has given us a free will that makes self-determination possible, but what we determine for ourselves will always be so much smaller, so cramped and limited, compared to what God wills for us. Let's determine to open ourselves and offer ourselves as completely as we can to Him, trusting that He wants more for us than we can imagine!
Lord, I give everything to you and I accept everything that You send, knowing that Your love for me is greater than my weakness and littleness, and will never fail me. Amen.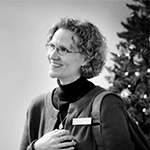 Kathryn Mulderink, MA, is married to Robert, Station Manager for Holy Family Radio. Together they have seven children (including Father Rob), and four grandchildren. She is President of the local community of Secular Discalced Carmelites and has published five books and many articles. Over the last 30 years, she has worked as a teacher, headmistress, catechist, Pastoral Associate, and DRE, and as a writer and voice talent for Catholic Radio. Currently, she serves the Church by writing and speaking, and by collaborating with various parishes and to lead others to encounter Christ and engage their faith. Her website is www.KathrynTherese.com
Feature Image Credit: Manno, https://pixabay.com/photos/enslaved-monument-stone-figure-209565/