Two important questions: Who has the power? Who speaks for God?
Today's First Reading and Gospel gave me great pause. They forced me to think about two questions that are as important today as they were at the time that these events took place in the life of David and of Jesus.
Who has the power?
Who speaks for God?
King Saul, the anointed King of Israel, was responsible for leading his soldiers into battle. Instead he cowered with his army for over forty days until a boy offered to fight the mighty Goliath.
Who had the power here? It seemed that Goliath had the raw power of size and strength. King Saul had the power of authority. David, who would be called "a man after God's own heart," had the power of trust in God, of truly knowing God's heart. In the Responsorial Psalm we almost hear King David's heart sing of his dependence on and trust in the Lord his rock:
Blessed be the LORD, my rock,
who trains my hands for battle, my fingers for war….
My shield, in whom I trust,
who subdues my people under me….
You who give victory to kings,
and deliver David, your servant from the evil sword.
For Saul to engage the situation with Goliath with complete responsibility he would have had to go into battle, relying on a God who was faithful and not on his own devices. He would have had to risk engaging the enemy troops even at the possible cost of his own death for the sake of securing the safety and sovereignty of the Israelites. David was absolutely sure that the Lord who delivered him from the claw of lion and bear would keep him safe while he engaged Goliath in battle. He looked not at the seeming power Goliath possessed, but at the power of God who had shown the shepherd David that he was never alone, that he couldn't save himself, and that God would continue to deliver him.
In the Gospel, it appears that the Pharisees would have the power. They, the appointed shepherds of the people, used the man with the withered hand as a tool to trap Jesus. Their minds were set regarding what they thought about Jesus and the text says, "their hearts were hardened." And indeed after Jesus heals the man in the synagogue that day, they join with the Herodians in plotting Jesus' death.
Jesus, the Good Shepherd, reaches out to heal, showing us the heart of God for us all. Jesus doesn't change his story out of fear of the consequences for his own safety. Instead, Jesus, who does always what the Father tells him to do, enters into battle ultimately with the power of sin and darkness. Even through his death, he ultimately is victorious in the power of God. The Pharisees and Jesus would have talked about the situation in the synagogue that day in very different ways. While there was a blindness on the part of the Pharisees who had hardened their heart to Jesus and his teaching, there was in Jesus an openness, an obedience to God even unto death. Imagine sitting at table with the Pharisees later that evening, and then later around the campfire with the apostles and their Master. Two different narratives would have emerged.
Who has the power?
Who speaks for God?
JD Flynn, Editor-in-chief of The Pillar, in his article "Competing realities, ecclesial division, and ecclesial renewal," talks about a similar situation in which we live today. "Right or wrong, we've learned in the past two years that before history can be written, there is sometimes a period in which wildly divergent narratives compete to account for even the most basic sequences of events." (See The Pillar newsletter on January 4, 2022.)
There are "mutually exclusive interpretations and re-tellings at both the highest levels of government and family dinner tables" of the events of January 6, the coronavirus pandemic and vaccinations, the elections of 2020. Even Catholics are fragmented into sharply divided camps often led by strong personalities with a social platform giving competing accounts of ecclesial realities. Flynn notes that even within our family and Catholic circles we struggle with or against each other as we engage in conversations about vaccine mandates, or Vigano, or whether the parish should still be requiring masks.
It isn't easy to live in these times of uncertainty. It can be disconcerting when we discover that family and friends with whom we ordinarily get along have very different conceptions of the reality around us. That experience is jarring, particularly in a situation in which everyone is sifting through information to determine as best as they can what is true and what is fake. What would have two years ago been an interesting conversation has turned into an attempt to convince the other of what each believes to be real, as each entrenches themselves more and more in their own camp.
Who has the power?
Who speaks for God?
I am taking away from these readings today three touchstones in living through this continued uncertain time, and I offer them for your consideration:
It is reliance on God and not self-sufficiency that will give me the courage to risk being what I have been called to be, whatever may be the consequences for myself.

If I use people, events or facts solely in order to bolster my own view of reality against another's, I have to seriously examine myself if I am only increasing my own blindness and hardening my heart.

Like Christ, we each live our lives within the great drama of salvation. We each have a role in the salvation God is bringing about in the Kingdom of God. Whatever I can do to keep my own attention on the larger mystery of what God is doing will help me engage with others more wisely, more freely, more lovingly.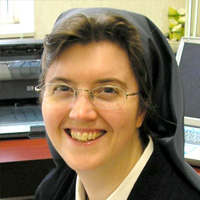 Kathryn James Hermes, FSP, is the author of the newly released title: Reclaim Regret: How God Heals Life's Disappointments, by Pauline Books and Media. An author and spiritual mentor, she offers spiritual accompaniment for the contemporary Christian's journey towards spiritual growth and inner healing. She is the director of My Sisters, where people can find spiritual accompaniment from the Daughters of St. Paul on their journey. Website: www.touchingthesunrise.com Public Facebook Group: https://www.facebook.com/groups/srkathrynhermes/ For monthly spiritual journaling guides, weekly podcasts and over 50 conferences and retreat programs join my Patreon community: https://www.patreon.com/srkathryn.
Feature Image Credit: Davide con testa di Golia (opera di Bernardo Castello) via Wikipedia, https://commons.wikimedia.org/wiki/File:Davide_con_testa_di_Golia_(opera_di_Bernardo_Castello).jpg