The First Reading today can be a little confusing for those of us who haven't been reading the book of Isaiah in context. Isaiah is a prophet of God who is constantly calling God's people to repent of their wicked ways and return to the Lord.
In this excerpt, Isaiah is sent by God to speak to Ahaz, the King of Judah. Ahaz and his people are fearful because their land is under attack. Their hearts trembled, "as the trees of the forest tremble in the wind." But God sends Isaiah to tell the King and his people to be courageous and remain tranquil. Through the words of Isaiah, God reveals to Ahaz that their enemies will not triumph over them, but stipulates that Ahaz must be faithful to God. "Unless your faith is firm," Isaiah tells him, "you will not be firm." The book of Isaiah goes on to show that Ahaz and the people of Judah are not faithful to the Lord! Judah is eventually conquered by the Babylonians and taken into captivity.
In the New Testament, God the Father sends not just a prophet, but his only son Jesus Christ to make it clear to all of us that we can be delivered from all of our fears—we can experience safety and freedom—if only we will respond with faith. Not the kind of faith that merely says, "I believe," but the kind of faith that God wanted from Ahaz. A faith that demonstrates our willingness to forsake our own misguided ways and faithfully follow the One, true God.
In today's Gospel passage from the book of Matthew, we see that Jesus is clearly expecting a radical response to the miracles he has performed which so often accompany His invitation to repentance and salvation. "Jesus began to reproach the towns where most of his mighty deeds had been done, since they had not repented. 'Woe to you, Chorazin! Woe to you, Bethsaida!… I tell you, it will be more tolerable for the land of Sodom on the day of judgment than for you.'"
Jesus couldn't be more clear. Life and death are hanging in the balance for the people of Chorazin and Bethdsaida. The same choice is given to us. What do we want? Life or death? Will we repent? Will we demonstrate that we believe by returning to the worship and service of the One true God?
It is God's mercy that speaks to us in these passages of scripture. Let's truly repent of our sin, while there is yet time, and allow the Holy Spirit to renew us and change us. By choosing God's ways over our own ways we can live in freedom from fear and experience authentic peace and eternal salvation.
---
La Primera Lectura de hoy puede ser un poco confusa para los que no han estado leyendo el libro de Isaías en contexto. Isaías es un profeta de Dios que llama constantemente al pueblo de Dios a arrepentirse de su maldad y volver al Señor.
En este pasaje, Dios lo envia a Isaías a hablar con Acaz, el Rey de Judá. Acaz y su pueblo tienen miedo porque su tierra está bajo ataque. Sus corazones temblaron, "como los árboles del bosque se estremecen con el viento". Pero Dios envía a Isaías a decirle al Rey y a su pueblo que sean valientes y permanezcan tranquilos. A través de las palabras de Isaías, Dios le revela a Acaz que sus enemigos no triunfarán sobre él, pero estipula que Acaz debe ser fiel a Dios. "Si tu fe no es firme", le dice Isaías, "no serás firme". El libro de Isaías continúa mostrando que Acaz y el pueblo de Judá no son fieles al Señor. Al final, los babilonios conquistan a Judá y lo llevan al cautiverio.
En el Nuevo Testamento, Dios Padre envía no a un profeta, sino a su único hijo Jesucristo para dejarnos claro a todos que podemos ser liberados de todos nuestros temores, podemos experimentar seguridad y libertad, si tan solo lo respondamos con fe. No el tipo de fe que simplemente dice: "Creo", sino el tipo de fe que Dios quería de Acaz. Una fe que demuestra nuestra disposición de abandonar nuestros propios comportamientos equivocados y seguir fielmente al Único Dios verdadero.
En el pasaje evangélico de hoy del libro de Mateo vemos claramente que Jesús espera una respuesta radical de los milagros que ha realizado que frecuentemente acompañan su invitación al arrepentimiento y a la salvación. "Jesús comenzó a reprochar a los pueblos donde había hecho la mayor parte de sus grandes obras, ya que todavía no se habían arrepentido. '¡Ay de ti, Corazín! ¡Ay de ti, Betsaida!… Te digo que será más tolerable para la tierra de Sodoma en el día del juicio que para ustedes.'"
Jesús habla muy claramente. La vida y la muerte penden de un hilo para la gente de Chorazin y Bethdsaida. Nos da la misma decisión a nosotros. ¿Qué queremos? ¿la vida o la muerte? ¿Nos arrepentiremos? ¿Demostraremos que creemos volviendo a la adoración y al servicio del Único Dios verdadero?
Es la misericordia de Dios la que nos habla en estos pasajes de las Escrituras. Arrepintámonos verdaderamente de nuestro pecado, mientras aún haya tiempo, y permitamos que el Espíritu Santo nos renueve y nos cambie. Al elegir los caminos de Dios sobre los nuestros, podemos vivir libres del temor y experimentar la paz auténtica y la salvación eterna.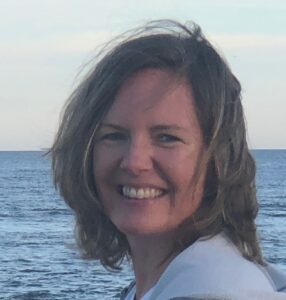 Christine Hanus is a thwarted idealist who, nevertheless, lives quite happily in Upstate NY. She is a wife and mother of five grown children.
Feature Image Credit: Jon Tyson, unsplash.com/photos/CYswOLYDUXY