This Gospel is challenging. Loving anyone more than I love my family feels impossible. It is hard thinking that God gave me these people to journey through life with only to say "love them but love me more."
But that's exactly how it is. It's true I love him by loving them, but my goal is to be with him in heaven. We help each other grow in holiness and the goal of marriage is to help your spouse get to heaven but we must always put God first. He even says that if we love our parents or children more than him, we are not worthy of him.
This isn't an exhortation to not love my family but an affirmation of how important it is to love God. My heavenly Father must be first in my heart because he ordained it to be that way. In loving God we fulfill our reason for existing. We were created to freely love him and that is where we find true joy and peace.
Yes, we love our husbands and children but we must love God more. We receive the grace to do this through the sacraments. We receive Jesus in Holy Communion and we are reconciled to him in confession. God knows our weaknesses and he sent us his Son to teach us how to love him more. Jesus is a loving and gentle teacher and if we entrust ourselves to him, he will show us how to put our Father first in all we do and are.
Where in your life do you need to put God first?
Jesus, please teach me how to love you more. Help me to put you first in everything.
---
Este Evangelio es un reto. Amar a alguien más que amar a la familia parece imposible. Es difícil pensar que Dios me dio a estas personas para viajar por la vida con solo decir "ámalos pero ámame más".
Pero así es. Es verdad que amo a Dios amándolos a ellos, pero mi meta es estar con él en el cielo. Nos ayudamos los unos a los otros a crecer en la santidad y el objetivo del matrimonio es ayudar al cónyuge a llegar al cielo, pero siempre debemos poner a Dios primero. Incluso dice que si amamos a nuestros padres o hijos más que a él, no somos dignos de él.
Esto no es una exhortación a no amar a la familia, sino una afirmación de cuán importante es amar a Dios. Mi Padre celestial debe ser primero en mi corazón porque así lo ordenó. Al amar a Dios cumplimos nuestra razón de existir. Fuimos creados para amarlo libremente y ahí es donde encontramos el verdadero gozo y la paz.
Sí, amamos a nuestros esposos e hijos, pero debemos amar más a Dios. Recibimos la gracia de hacer esto a través de los sacramentos. Recibimos a Jesús en la Sagrada Comunión y nos reconciliamos con él en la confesión. Dios conoce nuestras debilidades y nos envió a su Hijo para enseñarnos a amarlo más. Jesús es un maestro amoroso y dulce y si nos encomendamos a él, nos mostrará cómo poner a nuestro Padre en primer lugar en todo lo que hacemos y somos.
¿En qué parte de tu vida necesitas poner a Dios primero?
Jesucristo, por favor, enséñame a amarte más. Ayúdame a ponerte primero en todo.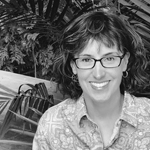 Merridith Frediani loves words and is delighted by good sentences. She also loves Lake Michigan, dahlias, the first sip of hot coffee in the morning, millennials, and playing Sheepshead with her husband and three kids. She writes for Catholic Mom, Diocesan.com, and her local Catholic Herald. Her first book Draw Close to Jesus: A Woman's Guide to Adoration is available at Our Sunday Visitor and Amazon. You can learn more at merridithfrediani.com.
Feature Image Credit: R K, unsplash.com/photos/ngE9ekbCQ-Y