In today's Gospel Christ is warning His disciples (and us) to practice what we preach. It is not only through our words that we can deny Christ; through our actions—and even through the things we choose not to do—we can deny God. Christ's words are not just cautionary, they are encouraging as well. He reminds His disciples that we do not have to rely solely on ourselves when speaking of the Truth and of faith in God. The Holy Spirit Himself will guide our tongues to say the right thing. When we are faithful to God, He is faithful to us.
We are also reminded of that faithfulness in the First Reading in God's covenant with Abraham. Even in times of human failure, when man's side of the covenant was not kept, God remained faithful. God knew that despite Abraham's failings, he had put his full trust in the covenant He made with God so God kept His promise and made Abraham the father of many nations. He remains faithful to us because of His love for us.
How often are we faithful to God in our words but don't support those words with our actions? How often do we ask God to give us what we think we need but don't turn to Him in moments of true despair or forget to praise Him in moments of true joy? May we always remember that it is by His love for us that we are saved from our sins.
Sts. Hedwig and Margaret Mary Alacoque, pray for us!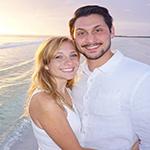 Dakota currently lives in Denver, CO and teaches English Language Development and Spanish to high schoolers. She is married to the love of her life, Ralph. In her spare time, she reads, goes to breweries, and watches baseball. Dakota's favorite saints are St. John Paul II (how could it not be?) and St. José Luis Sánchez del Río. She is passionate about her faith and considers herself blessed at any opportunity to share that faith with others. Check out more of her writing at https://dakotaleonard16.blogspot.com.
Feature Image Credit: dodo71, https://pixabay.com/photos/stained-glass-window-church-6358716/