The Apostles seem to often spend their time with Jesus confused. Jesus, however, does not hold this against them. Instead, he takes every opportunity to teach them, and help them through their humanity in various ways! One of His most powerful teachings resides in the following: "Whoever wishes to be great among you will be your servant; whoever wishes to be first among you will be the slave of all. For the Son of Man did not come to be served but to serve and to give his life as a ransom for many."
In today's First and Second Readings, we see that through Christ's obedience, He has obtained for us everlasting mercy. Christ can understand our weaknesses as He has undergone the same tests and has prevailed.
To unconditionally serve one another is the essence of true love as Catholics. As stated in Mk 10:38-39, "The chalice that I drink…you will be baptized". Just as Christ suffered, his followers would suffer for their faith in him. (CCC 536, 618, 1225). This is particularly relevant for those in religious life, since bishops and priests possess authority given to them by Christ, but their authority is based on becoming a servant to everyone. I think the same is true in families though, through the love of a spouse, parent, or child. Ultimately, this life of service is exemplified in every action of Christ.
In chapter 10 of the Gospel of Mark, James and John ask to drink from the same cup as Jesus. To others, this may seem like the opposite of wanting to serve; it appears they are seeking power above others. It is boldness, to ask for something they don't yet even understand. Yet at the same time we can admire the sons of Thunder as they turn to Christ and speak their prayers with infinite trust.
Are we running to Jesus with all of our innermost questions and concerns? Let us pray ambitiously, ask clear questions, and our answers may be clearer. May we ask with full trust in God and be not afraid.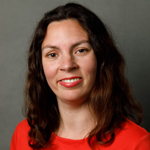 Dr. Alexis Dallara-Marsh is a board-certified neurologist who practices in Bergen County, NJ. She is a wife to her best friend, Akeem, and a mother of two little ones on Earth and two others in heaven above.
Feature Image Credit: Aaron Burden, https://unsplash.com/photos/lPCu8HnGU2E