I am so excited for Christ's coming! To meet Him face to face. In today's Gospel, we learn His name shall be Emmanuel, Jesus. God is with us. Perhaps this is evident in the many various names He is granted. How many names do we continue to come across in the Bible? I would say well over 100! And of course, through this, we must recognize He remains alive in us.
For example, during the Liturgy of the Eucharist, we hear quite a variety- Lamb of God, Lord God Almighty, Hosanna in the Highest, Bread of Life, the list goes on. Which name stands out the most to you according to how you define your relationship with Christ the Lord?
I would recommend you try to take some time out this Advent season to reflect on His name as a way to grow in your relationship with Him, to know forevermore who He is and then in fact, who He wants us to become in Him. This could also be a great way to bond with your loved ones, by reviewing Christ's many different names and exploring their foundations in the Bible.
May Christ, the Lord God, always be with us, both today and forevermore!
---
¡Estoy tan emocionada por la venida de Cristo! Encontrarlo cara a cara. En el Evangelio de hoy, aprendemos que Su nombre será Emmanuel, Jesús. Dios esta con nosotros. Tal vez esto sea evidente en los muchos nombres que se le otorgan. ¿Cuántos nombres encontramos por toda la Biblia? ¡Yo diría que más de 100! Y por supuesto, a través de esto, debemos reconocer que Él permanece vivo en nosotros siempre.
Por ejemplo, durante la liturgia de la Eucaristía, escuchamos una gran variedad: Cordero de Dios, Señor Dios Todopoderoso, Hosanna en las alturas, Pan de vida, y la lista sigue. ¿Qué nombre te llama más la atención según cómo defines tu relación con Cristo el Señor?
Te recomendaría que trates de tomarte un tiempo en esta temporada de Adviento para reflexionar sobre Sus nombres como una forma de crecer en tu relación con Él, para saber para siempre quién es y, de hecho, quién quiere que seas en Él. Esta también podría ser una excelente manera de vincularte con sus seres queridos, revisando los diferentes nombres de Cristo y explorando sus fundamentos en la Biblia.
¡Que Cristo, el Señor Dios, esté con nosotros, hoy y siempre!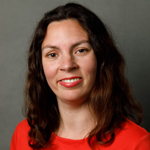 Dr. Alexis Dallara-Marsh is a board-certified neurologist who practices in Bergen County, NJ. She is a wife to her best friend, Akeem, and a mother of two little ones on Earth and two others in heaven above.
Feature Image Credit: Francisco Xavier Franco Espinoza, cathopic.com/photo/14932-jesus