Both readings today present us with dramatic answers to prayers. I think this is why we get our hopes up so high when we pray. We want a big answer, sign, and response so we can be sure. We want our answer so clear that no discernment is needed and no doubt crosses our minds. And yet, both the unnamed woman and Zechariah cooperate with God. The conception that occurs for both couples is miraculous, but the couples cooperated with the grace offered, they accepted the answer to prayer and did their part.
This is where I falter. I am often so much like Zechariah that it's a wonder the good Lord doesn't have something hit me upside my head when He answers my prayers. Because He does. All the time. And yet, I question, "was that really what He meant?" "He wants me to do what?" "So I am moving forward in the right direction?"
I ask questions. I discern. I believe, to the best of my ability, that I understand God's will in this particular situation – and I stall. Is it only me? I want to be sure. Or is it that I don't want to fail? Hmm, yes, there it is. Fear of failing. It's worse than FOMO (fear of missing out). In a few days, we will celebrate the birth of our Savior. And in the lineage of Jesus, in all the prophets who came before Him, people cooperated with the grace of God. I think that some of them may have had Fear Of Failing before cooperating with God's grace. Indeed, it seems based on Scriptures that Samson's mother and Elizabeth both believed they had failed at bearing a child. Yet God's grace saved them. And grace is what can propel us out of fear of failing to believe that whatever God calls us to, He sees us through.
Ask for the grace. And then, keep your eyes and soul open to see the grace. Cooperate with the grace. Believe that you have received the answer to your prayer.
---
Ambas lecturas de hoy nos presentan respuestas dramáticas a las oraciones. Creo que es por eso que tenemos tantas esperanzas cuando oramos. Queremos una señal y una gran respuesta para que podamos estar seguros. Queremos que nuestra respuesta sea tan clara que no se necesite discernimiento y que ninguna duda se nos cruce por la mente. Y, sin embargo, tanto la mujer sin nombre como Zacarías cooperan con Dios. La concepción que se produce para ambas parejas es milagrosa, pero las parejas cooperaron con la gracia ofrecida, aceptaron la respuesta a la oración y pusieron de su parte.
Aquí es donde vacilo. A menudo me parezco tanto a Zacarías que es un milagro que Dios no tenga que golpearme con algo en la cabeza cuando contesta mis oraciones. Porque sí las contesta. Todo el tiempo. Y, sin embargo, me pregunto, "¿fue eso realmente lo que quiso decir?" "¿Quiere que haga qué cosa?" "¿Entonces estoy avanzando en la dirección correcta?"
Hago preguntas para discernir. Creo, lo mejor que puedo, que entiendo la voluntad de Dios en esta situación particular, pero de todos modos me detengo. Quiero estar segura. ¿O es que no quiero fallar? Hmm, sí, ahí está. Miedo a fallar. Es peor que miedo a perderse algo. En unos días celebraremos el nacimiento de nuestro Salvador. Y en el linaje de Jesús, en todos los profetas que vinieron antes de Él, la gente cooperó con la gracia de Dios. Creo que algunos de ellos pueden haber tenido miedo a fracasar antes de cooperar con la gracia de Dios. De hecho, parece basado en las Escrituras que la madre de Sansón e Isabel creían que habían fallado en tener un hijo. Sin embargo, la gracia de Dios los salvó. Y la gracia es lo que puede impulsarnos a hacer lo que Dios nos llama hacer a pesar del miedo. Él nos ayuda.
Pide la gracia. Y luego, mantén tus ojos y tu alma abiertos para ver la gracia. Coopera con la gracia. Cree que has recibido la respuesta a tus oraciones.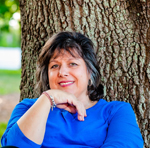 Deanna G. Bartalini, M.Ed.; M.P.A., is a certified spiritual director, writer, speaker and content creator. The LiveNotLukewarm.com online community is a place to inform, engage and inspire your Catholic faith. Her weekly Not Lukewarm Podcast gives you tips and tools to live out your faith in your daily life.
Feature Image Credit: Eric Brehm, unsplash.com/photos/wM7zTfMLph4