Godspell, the musical from 1973, is an assault to one's eyes with its rainbow-haired Jesus and 70's nonconformist vibe. It marries two different ways of looking at the world: the love anyone, anytime, anywhere hippie milieu with the story of our eternal salvation through Christ's sacrifice. It feels uncomfortable, like strange bedfellows, a relationship that shouldn't work. Yet, it does, primarily because it mines its material directly from the Gospel of Matthew. Even though the hippie culture has gone away and our eyes can rest, the Gospel story never gets old or dated.
I was introduced to this play when my high school performed it and it had a profound effect on me for one reason (not the earworm songs the cast breaks into unexpectedly). It was the first time I'd considered that the apostles were people.
Catholic education in the 70's and 80's lacked a lot, including introducing children to the person of Jesus. What I was startled to realize while watching the second to last scene where Jesus dies, was that the apostles were people and their friend died. The idea that a friend can die was unknown to me at the time.
As I watched kids I was friends with play out the scene, I started to get it. Their friend died. Died. They didn't know what we know, that in three days he'd be back. Death is final and the man they'd spent three years with was gone.
It wasn't until many years later that I began to know Jesus as a person and a friend. Then his crucifixion became more than the death of their friend but of mine also. When I read today's Gospel and picture Mary and John at the foot of the cross it becomes more real and somehow more important to imagine myself there with them because even though he died over 2000 years ago, it wasn't just for them. It wasn't just because of the sins of the people then. It was for me and because of my sin.
Imagining ourselves there is important because it helps us keep this event from becoming routine. When it's just another story about a good guy a long time ago, we lose the significance. Every year we must take the time and emotional effort to put ourselves there and remember he died for us and give him thanks and glory. We are not in a musical, we are in life and this is important.
---
Godspell, el musical de 1973, es un asalto a los ojos con su Jesús de cabello arcoíris y la vibra inconformista de los años 70. Une dos formas diferentes de ver el mundo: el amor a cualquier persona, en cualquier momento y en cualquier lugar del medio hippie con la historia de nuestra salvación eterna a través del sacrificio de Cristo. Se siente incómodo, como extraños compañeros de cama, una relación que no debería funcionar. Sin embargo, lo hace, principalmente porque extrae su material directamente del Evangelio de Mateo. Aunque la cultura hippie se ha ido y nuestros ojos pueden descansar, la historia del Evangelio nunca pasa de moda ni se hace anticuada.
Conocí esta obra cuando mi escuela secundaria la interpretó y me afectó profundamente por una sola razón (no las canciones que los actores cantan en los momentos más inesperados); era la primera vez que consideraba que los apóstoles eran personas.
A la educación católica de los años 70 y 80 le faltaba mucho, incluso acercar a los niños a la persona de Jesús. Lo que me sorprendió al ver la penúltima escena donde Jesús muere, fue que los apóstoles eran personas y su amigo murió. La idea de que un amigo puede morir me era desconocida en ese momento.
Mientras observaba a mis amigos representar la escena, comencé a entenderlo. Su amigo se murió. Se murió. No sabían lo que nosotros sabemos, que en tres días estaría vivo de nuevo. La muerte es definitiva y el hombre con el que habían pasado tres años se había ido.
Muchos años después recién comencé a conocer a Jesús como persona y como Amigo. Entonces su crucifixión se convirtió en más que la muerte de su amigo, sino también en el mío. Cuando leo el Evangelio de hoy y me imagino a María y Juan al pie de la cruz, se vuelve más real y, de alguna manera, más importante imaginarme allí con ellos porque, aunque él murió hace más de 2000 años, no fue solo por ellos. No fue solo por los pecados de la gente de aquel tiempo. Fue por mí y por mi pecado.
Imaginarnos en la escena es importante porque nos ayuda a que este evento no se vuelva rutinario. Cuando es solo otra historia sobre un buen tipo hace mucho tiempo, perdemos el significado. Cada año debemos tomarnos el tiempo y el esfuerzo emocional para ponernos en la escena y recordar que se murió por nosotros y darle las gracias y la gloria. No somos actores en un musical, estamos viviendo la vida real y esto es importante.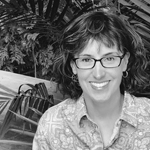 Merridith Frediani loves words and is delighted by good sentences. She also loves Lake Michigan, dahlias, the first sip of hot coffee in the morning, millennials, and playing Sheepshead with her husband and three kids. She writes for Catholic Mom, Diocesan.com, and her local Catholic Herald. Her first book Draw Close to Jesus: A Woman's Guide to Adoration is available at Our Sunday Visitor and Amazon. You can learn more at merridithfrediani.com.
Feature Image Credit: Louis Galvez, unsplash.com/photos/I8gQVrDcXzY