Our society is constantly pushing for each individual to define happiness, love, and success for themselves, often without regard for the effect on their neighbor. What we find at the extreme of this thinking is a society based on tolerating our differences with one another, without ever finding our common ground. We have lost a shared set of values which defines the common good. We have lost the very Catholic way of thinking which embraces "both-and". We can work together for the common good and value the basic dignity of every individual as created by God.
Today's reading can help us reorient ourselves by embracing something above and beyond ourselves, something immutable and all powerful. Something which isn't swayed by time and passing fashion.
God's law is written deeply inside each and every one of us. God's law gives us a shared definition of happiness, love, success, all while still caring for the dignity of each person. When we live in accordance with His law of love, we are paying God an oblation of the highest sort. We are offering our will as secondary to His divine will.
When we do this, when we offer the difficult in the moment for the good in the eternal, we are giving such a little bit of ourselves. What God promises us is so much more!
"Amen, I say to you, there is no one who has given up house or brothers or sisters or mother or father or children or lands for my sake and for the sake of the Gospel who will not receive a hundred times more now in this present age: houses and brothers and sisters and mothers and children and lands, with persecutions, and eternal life in the age to come." We don't live for this world, we live for the next.
---
Nuestra sociedad presiona constantemente para que cada individuo defina la felicidad, el amor y el éxito por sí mismo, a menudo sin tener en cuenta el efecto en su prójimo. Lo que encontramos en el extremo de este pensamiento es una sociedad basada en tolerar nuestras diferencias entre nosotros, sin encontrar nunca nuestro terreno común. Hemos perdido un conjunto compartido de valores que define el bien común. Hemos perdido la forma muy católica de pensar que abraza el "ambos-y". Podemos trabajar juntos por el bien común y valorar la dignidad básica de cada individuo como creado por Dios.
La lectura de hoy puede ayudarnos a reorientarnos al aceptar algo que está por encima y más allá de nosotros mismos, algo inmutable y todopoderoso. Algo que no se deja influir por el tiempo y las modas pasajeras.
La ley de Dios está escrita profundamente dentro de todos y cada uno de nosotros. La ley de Dios nos da una definición compartida de felicidad, amor, éxito, todo sin dejar de cuidar la dignidad de cada persona. Cuando vivimos de acuerdo con Su ley de amor, le estamos dando a Dios una oblación del más alto nivel. Estamos ofreciendo nuestra voluntad como secundaria a Su voluntad divina.
Cuando hacemos esto, cuando ofrecemos lo difícil en el momento por el bien en lo eterno, estamos dando un poco de nosotros mismos. ¡Lo que Dios nos promete es mucho más!
"Yo les aseguro: Nadie que haya dejado casa, o hermanos o hermanas, o padre o madre, o hijos o tierras, por mí y por el Evangelio, dejará de recibir, en esta vida, el ciento por uno en casas, hermanos y hermanas, madres e hijos y tierras, junto con persecuciones, y en el otro mundo, la vida eterna." No vivimos para este mundo, vivimos para la vida eterna.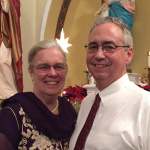 Sheryl is happy to be the number 1 cheerleader and supporter for her husband, Tom who is a candidate for the Permanent Diaconate in the Diocese of Kalamazoo. They are so grateful for the opportunity to grow together in this process. Sheryl's day job is serving her community as the principal for St. Therese Catholic School in Wayland, Michigan. Since every time she thinks she gets life all figured out, she realizes just how far she has to go, St. Rita of Cascia is her go-to Saint for intercession and help. Home includes Carlyn, a very, very goofy Golden Retriever and Lucy, our not-so-little rescue puppy.
Feature Image Credit: Ben White, unsplash.com/photos/4K2lIP0zc_k