I have many friends and acquaintances in the midst of a myriad of challenges in their lives. Honestly though, each of us has a whole lot of stuff going on in our lives. Isn't that the common denominator of human existence? Time is constantly moving forward. Change too, is part of that forward movement. The readings today touch on that theme.
A tremendous change happened in the world through Mary's yes and Jesus' birth. Throughout all of time, in trials and tribulations, good times and bad, He is with us. He is the Son of God, the Word incarnate.
I pray that I have as much faith as Mary, to trust in the mercy and love of God through all times. Mary carried God's love and mercy close to her heart so we too, can share in that grace and mercy through the teachings and sacrifice of her son, Jesus.
I pray that I will thank you always for what you have done, Lord, and proclaim the goodness of your name, to all and through all situations. Amen.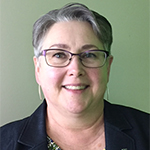 Beth Price is part of the customer care team at Diocesan. She is a Secular Franciscan (OFS) and a practicing spiritual director. Beth shares smiles, prayers, laughter, a listening ear and her heart with all of creation. Reach her here bprice@diocesan.com.
Feature Image Credit: William Farlow, https://unsplash.com/photos/IevaZPwq0mw