It really is easy to judge others. And often we cloak it as help or worry or wanting what is best for the other person. Why aren't we to judge others? It's simple, we are not God. We don't know the whole story. We don't have the big picture. We compare ourselves and decide about the other person's life or motive without ever talking to them. We may even use shame or try to manipulate when we judge.
We say we are judging because we don't want the person to sin. But before we go talk to someone about stopping a particular sin, we need to make sure of our motive. The best way to learn if we have the right intention is to ask God. In prayer, ask if you are supposed to do something about the problem you see. And God will let you know if you are to speak. You see, Jesus is telling us not to judge, not because He is unconcerned with sin but because He wants you to be right with God before you do anything. And then, this is the verse that gets to me the most, one of those that always makes me pause and think, "For as you judge, so will you be judged, and the measure with which you measure will be measured out to you." And that judgment, that measure will come from God.
I cannot judge others. I am too harsh. When I was growing up, it was the time of 'Jesus loves you.' Yes, Jesus loves you, but there is much more to Him. There was rarely talk of sin or punishment. We did not know that God was justice and mercy. All we heard about was love, not even mercy. It was as if we had no need for mercy. Yet, we need all God offers us.
And that is the point Jesus is making in these verses from Matthew. God will judge, with great justice and mercy and love. Jesus wants us to leave the judging to the Father so that we can be free to live as His followers.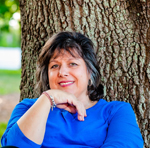 Deanna G. Bartalini, M.Ed.; M.P.A., is a certified spiritual director, writer, speaker and content creator. The LiveNotLukewarm.com online community is a place to inform, engage and inspire your Catholic faith. Her weekly Not Lukewarm Podcast gives you tips and tools to live out your faith in your daily life.
Feature Image Credit: Ankhesenamun, unsplash.com/photos/0ulIuQ01iSw