Discerning what the teaching, "do not give what is holy to dogs, or throw your pearls before swine," means in your life can be a little perplexing. The language is strange, and this verse may take extra prayer and even a little research to fully comprehend Jesus' intended lesson. Additionally, "lest they trample them underfoot, and turn and tear you to pieces" seems a little harsh, yet we trust Jesus, and those who recorded His words, never include filler—every word has purpose.
There is nothing more holy than the Eucharist—the body, blood, soul, and divinity of our Lord, Jesus Christ. To receive this gift, our hearts must be properly prepared. On Corpus Christi Sunday, in dioceses across the nation, the USCCB launched the National Eucharistic Revival, "three years for discernment, encounter, and grassroots response on the diocesan, parish, and individual levels" to (re)kindle a living, loving relationship with Jesus Christ, especially in the Eucharist.
In John's Gospel, Jesus reveals the difficult teaching of His Real Presence in the Eucharist: "Very truly, I tell you, unless you eat the flesh of the Son of Man and drink his blood, you have no life in you." Many followers walked away, confused and unable to accept Jesus' gift of himself in the Eucharist. He did not use those next moments to talk of symbolism but instead looked to those remaining and inquired if they, too, would leave. It is being able to embrace this difficult yet true teaching of the Catholic faith that leads through the narrow gate, also presented in today's Gospel. The one that leads to life, Jesus tells us, although those who find it are few. There are many reasons we fail to enter the narrow gate— doubt, fear, caution, or merely unwillingness to allow the mystical to reveal something to us this world cannot.
Faith is a gift. Gifts are only useful if they are received, opened, and used. In light of today's Gospel, when we refuse to allow the Holy Spirit to enlighten our hearts about the holy things of God, we are truly casting them down before swine. They will be trampled into pieces and, maybe even unwittingly, miss out on one of the most incredible gifts God has prepared for us. We can be no closer to Christ than when we receive Him in the Eucharist. The greatest gift God has given us is his Son, who took on flesh, our sins, and the suffering meant for us so that we may one day be with Him forever in heaven.
Do not cast your faith away. Do not let it be trampled under foot by worldly cares, cynicism, or confusion. As Matthew 7:7 so wisely counsels, ask, seek, knock, trusting the Lord will answer the door of your heart and He will answer your questions. Like the centurion in Mark's Gospel, let us pray in those weak, faltering moments so as not to be lost, "Lord, I believe. Help my unbelief." It is in prayer where we open our hearts to be renewed and redeemed by the God who loves us enough to be consumed under the guise of bread and wine so that we may have eternal life.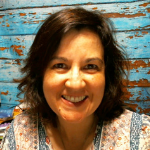 Allison Gingras is a Deacon's wife and seasoned mom of three. Allison works for Family Rosary as a social media and digital specialist, as well as a new media consultant for Catholic Mom and the Diocese of Fall River. She is the author of Encountering Signs of Faith: My Unexpected Journey with Sacramentals, the Saints, and the Abundant Grace of God (Fall 2022, Ave Maria Press). Allison developed the Stay Connected Journals for Women series including her two volumes – The Gift of Invitation and Seeking Peace (OSV). She's hosted A Seeking Heart with Allison Gingras podcast since 2015.
Feature Image Credit: amorsanto, www.cathopic.com/photo/11394-enfoque-dios
The views and opinions expressed in the Inspiration Daily blog are solely those of the original authors and contributors. These views and opinions do not necessarily represent those of Diocesan, the Diocesan staff, or other contributors to this blog.