In today's Gospel reading, Jesus teaches the Apostles to pray the Our Father. If we reflect on this beautiful prayer, we cannot help but get a glimpse of God's love for us.
So today, I want to just focus on three sections of the Our Father.
The first is "thy will by done."
How often do we fall into the trap of doing our own will or doing the will of something or someone of this world? We often forget that we were created to know, love, and serve God, and it is to Him we must look for guidance. Our faith teaches us that we must not put anything before God, and while we say that of course we don't have false idols, we have to remember that false idols come in many forms. They are computer screens, TVs, phones, money, material possessions, even other people. If we are constantly doing our will or listening only to our own words, how will we ever hear God's? Then how will we do His will? Only when we open ourselves to Him, only when we listen for His voice, and only when we sit quietly will we grow closer to Him and know what He desires for us.
The second is "forgive us our trespasses as we forgive those who trespass against us."
Have you ever stopped to think about what this really means? We are telling God that we expect Him to forgive us in the manner in which we have forgiven others. That makes you think, doesn't it? So often we hold grudges, we become bitter, or we flat-out refuse to forgive someone who has wronged us. But this isn't the way God wants us to live our lives. If we live like this, we are closing ourselves to His joy and to His love. We are filling ourselves up with anger and resentment when we could be filling ourselves up with His mercy and love. Forgiveness isn't easy, and God understands that. But we have to at least try. So, today, if you are having difficulty forgiving someone, go to God in prayer and ask for His help. Ask Him to teach you the mercy that He shows when you present yourself in the confessional.
And finally, let us think about the words "lead us not into temptation."
Temptations abound in our secular world. Sometimes it seems that we are bombarded on all fronts. It could be something as simple as an overindulgence in sweets—a temptation that harms our bodies in a small way. It could be the temptation to sleep in and miss Mass. Or it could be the temptation to a more serious vice. We know our hearts, and we can be assured that God knows them too. Today, let us think about the things in life that tempt us, and let us work to let them go.
And let us take time today to pray this prayer, to reflect on God's words, and to open our hearts to the Lord who loves us so much that we cannot even fathom it.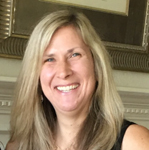 Susan Ciancio has a BA in psychology and a BA in sociology from the University of Notre Dame, with an MA in liberal studies from Indiana University. For the past 19 years, she has worked as a professional editor and writer, editing both fiction and nonfiction books, magazine articles, blogs, educational lessons, professional materials and website content. Thirteen of those years have been in the pro-life sector. Currently Susan freelances and writes weekly for HLI, edits for American Life League, and is the executive editor of Celebrate Life Magazine. She also serves as executive editor for the Culture of Life Studies Program—an educational nonprofit program for K-12 students. You can reach her at slochner0.wixsite.com/website.
Feature Image Credit: Rita Laura, www.cathopic.com/photo/6743-rosario-se-encuentra-misericordia