I know many people complain that our modern society lives for attention on social media, photographing adventures or good deeds solely to post pictures on social media for others to admire their courage, thoughtfulness, beauty, etc. I have heard people say, "Pictures or it didn't happen!" It's as though nothing matters unless others see it.
So when I hear Jesus warning us in today's Gospel not to pray, fast, or give alms so that others notice, I take comfort in knowing that this phenomenon has plagued human nature for centuries. Even people in Jesus's time were doing good, holy things more for attention than for their souls. The temptation to care more about what others think than what God thinks has been there since the dawn of time, it just is in a different form in our modern times.
As we contemplate today's readings, may God help us to remember that He is the only one who can see us clearly, and His opinion of us is the only one that matters in the long run.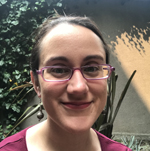 J.M. Pallas has had a lifelong love of Scriptures. When she is not busy with her vocation as a wife and mother to her "1 Samuel 1" son, or her vocation as a public health educator, you may find her at her parish women's bible study, affectionately known as "The Bible Chicks."
Feature Image Credit: StockSnap, pixabay.com/photos/curtain-art-design-house-home-2573892/