Tucked in between the readings today is an optional sequence, the Stabat Mater. This hymn originates in the thirteenth century and focuses on the sufferings of the Virgin Mary. There are over sixty translations of this stirring prayer and many musical settings by master composers. You may recognize a sung version from Good Friday services.

The hymn reflects on the seven sorrows of Mary and how she intimately shared in Jesus' redemptive suffering for the forgiveness of sins of the whole world throughout time.
The seven sorrows of Our Lady include the following: Simeon's prophecy about Mary being pierced by a sword, the flight of the Holy Family into Egypt, the loss of the child Jesus in the temple, Mary meeting Jesus on the Way of the Cross, the Crucifixion, taking down the Body of Jesus from the Cross, and the burial of Jesus.

The hymn resounds with the suffering of Our Mother Mary, which begs each reader to share in the redemptive mercy of Our Lord, her Son, Jesus.

"…Make me feel as you have felt; make my soul to glow and melt. With the love of Christ, my Lord. Holy Mother, pierce me through, in my heart each wound renew of my Savior crucified. Let me share with you his pain, who for all our sins was slain, who for me in torments died. Let me mingle tears with you, mourning him who mourned for me, all the days that I may live. By the cross with you to stay, there with you to weep and pray, is all I ask of you to give…" (excerpts from the Stabat Mater)

Holy Mother Mary, I lift up my prayers and pains to join your petitions to Christ Jesus, your Son. I pray for each of the very challenging situations facing individuals, communities, nations and all of creation. May I continue to grow in love for all in this world. Amen.
---
Escondido entre las lecturas de hoy hay una secuencia opcional, el Stabat Mater. Este himno tiene su origen en el siglo XIII y se centra en los sufrimientos de la Virgen María. Hay más de sesenta traducciones de esta oración conmovedora y muchos arreglos musicales de maestros compositores. Es posible que reconozca una versión cantada de los servicios del Viernes Santo.
El himno reflexiona sobre los siete dolores de María y cómo compartió íntimamente el sufrimiento redentor de Jesús por el perdón de los pecados del mundo entero a lo largo de los tiempos.
Los siete dolores de Nuestra Señora incluyen los siguientes: la profecía de Simeón acerca de María siendo atravesada por una espada, la huida de la Sagrada Familia a Egipto, la pérdida del niño Jesús en el templo, el encuentro de María con Jesús en el Vía Crucis, la Crucifixión, bajando el Cuerpo de Jesús de la Cruz, y el entierro de Jesús.
El himno resuena con el sufrimiento de Nuestra Madre María, que ruegue a cada lector que comparte la misericordia redentora de Nuestro Señor, su Hijo, Jesús.
"…Hazme sentir como tú has sentido; haz que mi alma brille y se derrita. Con el amor de Cristo, mi Señor. Santa Madre, traspásame, en mi corazón cada llaga se renueva de mi Salvador crucificado. Déjame compartir contigo su dolor, quien por todos nuestros pecados fue inmolado, quien por mí en tormentos murió. Deja que mezcle lágrimas contigo, haciendo duelo por el que hizo duelo por mí, todos los días que yo viva. Junto a la cruz contigo para quedarme, allí contigo para llorar y orar, es todo lo que te pido que me des…" (extractos del Stabat Mater)
Santa Madre María, elevo mis oraciones y dolores para unirme a tus peticiones a Cristo Jesús, tu Hijo. Oro por cada una de las situaciones más desafiantes que enfrentan los individuos, las comunidades, las naciones y toda la creación. Que pueda continuar creciendo en el amor por todos en este mundo. Amén.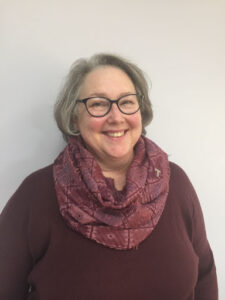 Beth Price is part of the customer care team at Diocesan. She is a Secular Franciscan (OFS) and a practicing spiritual director. Beth shares smiles, prayers, laughter, a listening ear and her heart with all of creation. Reach her here bprice@diocesan.com.
Feature Image Credit: Angie Menes, cathopic.com/photo/7937-mater-coeli