It may seem a little surprising on the Feast of the Exaltation of the Cross to hear the story of the Israelites being bitten by snakes in response to their continued complaining in the desert. Long journeys and hunger can have all of us impatient and even whining, right? But if we look at precisely what the Israelites were complaining about and the remedy offered them, the meaning becomes clearer.
They complained about "this wretched food," which was the manna, the miraculous food that God had sent to sustain them in the desert. God sent a gift and they threw it back at Him and called it wretched. In punishment, seraph serpents ("burning snakes") appeared and bit them and many of them were dying. The serpents were killing the ungrateful Israelites. To remedy this, God directed Moses to make an image of the very thing that is killing them, and those who looked up at it lived.
In the Gospel, Jesus compares his own crucifixion to the image of the serpent in the desert: "Just as Moses lifted up the serpent in the desert, so must the Son of Man be lifted up." Why? "So that everyone who believes in him may have eternal life."
What is the connection between the two? Well, when we choose sin and reject the Food God gives, it leads to spiritual death. Sin is killing us, like the serpents were killing the Israelites (like the original serpent, Satan). To remedy this, God sent His Son, who was "made to be sin" (2 Cor 5:21) and lifted up on the Cross, and those who look up to him will live. Jesus "becomes" the thing that is killing us, taking on all sin, and is then lifted up for all to look upon.
In both instances, repentance and faith are required. The Israelites weren't given a remedy until they had repented and asked Moses to intercede for them; and they would not have looked up at the bronze serpent unless they believed it would help them. In the same way, we do not look up at Christ as the crucified Savior unless we have repented of our sin and believe he will save us.
Are we so different from the wandering Israelites? Are we properly grateful for the miraculous spiritual Food that the Lord provides for us every day? Jesus tells us that HE is the true Bread come down from Heaven, and we literally consume Him, Body, Blood, Soul, and Divinity in the Eucharist. Jesus tells us that if we do not eat this Bread, we have no life in us! We must eat to live. So, we must grow in gratitude for this great Gift, without which we would die.
Let us look with trust upon the One who gives Himself for us – both as Food and as Savior – and "lift high the Cross" by being unashamed to wear it, kneel before it, and claim it as the source of our salvation.
---
Puede parecer un poco sorprendente en la Fiesta de la Exaltación de la Santa Cruz escuchar la historia de los israelitas siendo mordidos por serpientes en respuesta a sus continuas quejas en el desierto. Los viajes largos y el hambre pueden tenernos a todos impacientes e incluso lloriqueando, ¿verdad? Pero si miramos precisamente de qué se quejaban los israelitas y el remedio que se les ofreció, el significado se vuelve más claro.
Se quejaron de "este miserable alimento", que era el maná, el alimento milagroso que Dios había enviado para sustentarlos en el desierto. Dios les envió un regalo se lo devolvieron y lo llamaron miserable. En castigo, aparecieron serpientes serafín ("serpientes ardientes") y los mordieron y muchos de ellos se estaban muriendo. Las serpientes estaban matando a los israelitas desagradecidos. Para remediar esto, Dios ordenó a Moisés que hiciera una imagen de lo mismo que los estaba matando, y aquellos que miraron hacia arriba vivieron.
En el Evangelio, Jesús compara su propia crucifixión con la imagen de la serpiente en el desierto: "Así como Moisés levantó la serpiente en el desierto, así debe ser levantado el Hijo del Hombre". ¿Por qué? "Para que todo el que cree en él tenga vida eterna".
¿Cuál es la conexión entre los dos? Bueno, cuando elegimos el pecado y rechazamos el Alimento que Dios nos da, nos lleva a la muerte espiritual. El pecado nos está matando, como las serpientes estaban matando a los israelitas (como la serpiente original, Satanás). Para remediarlo, Dios envió a su Hijo, que fue "hecho pecado" (2 Cor 5,21) y levantado en la cruz, y los que lo miran vivirán. Jesús "se convierte" en lo que nos está matando, tomando todos los pecados, y luego es levantado para que todos lo vean.
En ambos casos, se requiere arrepentimiento y fe. A los israelitas no se les dio remedio hasta que se arrepintieron y le pidieron a Moisés que intercediera por ellos; y no habrían mirado a la serpiente de bronce a menos que creyeran que los ayudaría. De la misma manera, no miramos a Cristo como el Salvador crucificado a menos que nos hayamos arrepentido de nuestro pecado y creamos que nos salvará.
¿Somos tan diferentes de los israelitas errantes? ¿Estamos debidamente agradecidos por el alimento espiritual milagroso que el Señor nos proporciona todos los días? Jesús nos dice que ÉL es el verdadero Pan bajado del Cielo, y lo consumimos literalmente, Cuerpo, Sangre, Alma y Divinidad en la Eucaristía. ¡Jesús nos dice que si no comemos este Pan, no tenemos vida en nosotros! Debemos comer para vivir. Entonces, debemos crecer en gratitud por este gran Don, sin el cual moriríamos.
Miremos con confianza a Aquel que se da a sí mismo por nosotros, como Alimento y como Salvador, y "levantemos en alto la cruz" sin avergonzarnos de llevarla, arrodillándonos ante ella y reconocerla como la fuente de nuestra salvación.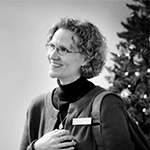 Kathryn Mulderink, MA, is married to Robert, Station Manager for Holy Family Radio. Together they have seven children (including Father Rob), and seven grandchildren. She is President of the local community of Secular Discalced Carmelites and has published five books and many articles. Over the last 30 years, she has worked as a teacher, headmistress, catechist, Pastoral Associate, and DRE, and as a writer and voice talent for Catholic Radio. Currently, she serves the Church by writing and speaking, and by collaborating with various parishes and to lead others to encounter Christ and engage their faith. Her website is www.KathrynTherese.com
Feature Image Credit: Diego Andrés Esquivel, cathopic.com/photo/10382-jesus-eucaristia