If you give too much attention to the news, to social media, or to the murmurings of the masses, you will find endless reasons to be confused, afraid, even despondent. But if you contemplate the Lord's Presence in the tabernacle or open the Scriptures, you will hear a Sovereign God say, "Be not afraid!"
Today, we celebrate the Solemnity of Our Lord Jesus Christ, King of the Universe, and are invited to contemplate the radiant Truth that the victory is already won, Our Lord and Savior is already seated at the right hand of God, the Father Almighty. As Priest, Prophet, and King, Jesus in constantly offering Himself and interceding in the name of, and on behalf of, His people. This is why we need fear nothing, this is why Jesus tells us that when things seem to be at their worst, his people should "stand erect and raise your heads because your redemption is at hand" (Luke 21:28).
We can rejoice no matter how things seem. Not simply because we have been saved – Catholicism is so much richer than that! Our Faith is about encounter, relationship, and union. In Christ, we are able to encounter the loving, living God (on the altar, in the Word, and in each other), and from that encounter we are transformed and empowered to bring the Good News to others. God is always calling us in love to deeper relationship, to a loving union with Him, and God is always coming to us in love, to transform us and empower us to be the bright lights of His love to others. We share in the very work of the King of the Universe.
Our union with the divine changes us from who we are to who we are created to be. And we are here, living in a world that is in desperate need that we BE who God created us to be. We are created to be disciples and friends of this compassionate King. We are created to be, like him, arrows pointing to the Father with our lives. We are created and called to be leaven for world enervated and deflated by sin and selfwardness; to be the salt that enhances and preserves what would otherwise rot; to be light in every darkened place. We are anointed into the very mission of Christ, to be – IN HIM – God's priests, prophets, and kings.
We are created to be radiantly awesome; and this culture has a huge need for our awesomeness. We are created to be holy, and this world has a deep need for our holiness.
We are lifted up by bowing low before our Lord Jesus Christ, because he alone is the holy One, he alone is the Lord, he alone is the Most High! What a gift we have been given, to know and be loved by the King of the Universe, and to share in the mission of salvation.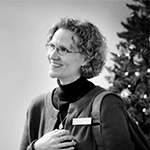 Kathryn Mulderink, MA, is married to Robert, Station Manager for Holy Family Radio. Together they have seven children (including Father Rob), and four grandchildren. She is President of the local community of Secular Discalced Carmelites and has published five books and many articles. Over the last 30 years, she has worked as a teacher, headmistress, catechist, Pastoral Associate, and DRE, and as a writer and voice talent for Catholic Radio. Currently, she serves the Church by writing and speaking, and by collaborating with various parishes and to lead others to encounter Christ and engage their faith. Her website is www.KathrynTherese.com
Feature Image Credit: Luis Ca, https://www.cathopic.com/photo/2094-un-solo-dios