"Like billowing clouds, like the incessant gurgling of the brook, the longing of the spirit can never be stilled". (St. Hildegard of Bingen)
I love this group of readings! Especially the Responsorial Psalm with the Gospel. We repeat the words, "Blessed are the poor in spirit; the Kingdom of heaven is theirs!" right before we hear of Christ's followers. His followers were not perfect people. Mary Magdalene had seven demons driven out of her, there were other women who had been cured of sickness and evil spirits as well. These were women who wanted to be healed, and who had been healed by the love and mercy of Christ. Our tendency when we hear "Blessed are the poor in spirit" is to ask "Why would I want to be poor in spirit? Doesn't that mean I lack faith?" Quite the opposite, actually. To be poor in spirit is to recognize your own spiritual poverty before the Lord. It is to recognize the need for God and the need for His love and mercy. So indeed, blessed are those who recognize their need for the Lord and live their lives in pursuit of unity with Him!
The First Reading tells us how to be poor in spirit. That is, we are to avoid anything which goes against the teachings of Christ, we are to avoid riches so as not to distract ourselves from the pursuit of holiness. Instead, we should be seeking "righteousness, devotion, faith, love, patience, and gentleness". We should follow the example of Christ who, in his ministry, exemplified righteous anger, devotion to the Father, faith in the Father's plan, love for all people, patience with his followers, and gentleness with those to whom He interacted.
May we, like Christ Himself as well those who followed Him while he was on earth, put our full faith and trust in his love and mercy.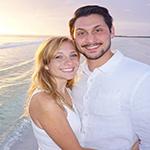 Dakota currently lives in Denver, CO and teaches English Language Development and Spanish to high schoolers. She is married to the love of her life, Ralph. In her spare time, she reads, goes to breweries, and watches baseball. Dakota's favorite saints are St. John Paul II (how could it not be?) and St. José Luis Sánchez del Río. She is passionate about her faith and considers herself blessed at any opportunity to share that faith with others. Check out more of her writing at https://dakotaleonard16.blogspot.com.
Feature Image Credit: Os Filhos de Maria, https://www.cathopic.com/photo/22422-holy-spirit