"I will appoint over you shepherds after my own heart, who will shepherd you wisely and prudently." Jer 3:15
Today's readings are full of imagery: rebellious children, shepherds after my own heart, the Lord guarding us as a shepherd guards his flock. I will turn their mourning into joy. Blessed are they who have kept the word with a generous heart and yield a harvest through perseverance. The parable of the sower. So much wisdom, insight and beauty packed into 13 lines of scripture. That's what keeps drawing me back to the scriptures; I can read a few verses that are very pertinent to my life in that moment. When I pick up the same verses either later that day, or the next year, the verses will not strike me in the same way it had before. (If you've not started using pencil in your bible to underline the verse or word that jumps out at you, I highly recommend it). Put a thin notebook in with your bible to jot down any insights, thoughts or phrases going through your mind as you reflect on the scripture verses. Yes, read them to yourself or out loud, and yes, more than once. Sit with whatever has caught your attention for a few minutes.This is a type of lectio divina.
What kept popping up to me as I read and listened to the Word was the good shepherd, who has kept the word with a generous heart, yielding a harvest through perseverance. Jesus Christ is the ultimate Good Shepherd, but who have been the shepherds on your own journey? The individual among the other sheep, who by his or her own perseverance of listening to the word, has invited or nudged you to follow the Lord?
Deacon Dean at my parish, is a wonderful homilist. Deacon Dean is a sheep of the flock, just like you and I. He perseveres in his service to the Lord through his prayer and leads through his daily practices and commitments in his life. He breaks open the Word through his own life struggles and prayer. My pastor has been sitting with Deacon's Sunday homily all this week and sharing where his prayer has lead him during the daily homilies. Both my pastor and deacon are shepherds (and sheep) whom I trust and follow. There are many members of my Franciscan fraternity, family and friends, authors and other leaders whose voices I trust and follow.
There are many people whose call I do not respond to as they represent a seed sown among thorns to me, as it seems "worldly anxiety and the lure of riches choke out the word and bears no fruit" (Mt 13:22). For me, they may have had the "evil one steal away what had been sown in their hearts" and now do not hear the Good Shepherd's voice in the word or world around them (Mt 13:19). I personally feel called to pray for all those who have this happen in their lives, and for the times when it has happened in my own. Pray with me, that the good shepherd open my eyes, ears and heart to follow the right leaders and path to the Lord.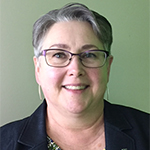 Beth Price is a Secular Franciscan (OFS) and spiritual director who has worked in several parish ministry roles during the last 20 years. She is a proud mother of 3 adult children. Beth currently works at Diocesan. You can contact her at bprice@diocesan.com