Jesus' Most Sacred Heart is the same yesterday, today, and forever.
"The designs of his heart shall endure from age to age, to rescue our souls from death and nourish us in our hunger."- Entrance Antiphon (Ps 32: 11,19)
The Feast of the Sacred Heart is a beautiful opportunity to seek out new graces and renew our love for Christ. Jesus continuously offers us His eternal love that is the same yesterday, today, and forever. This great Feast of the Sacred Heart is celebrated the Friday after the Second Sunday of Pentecost or 19 days after Pentecost.
This feast day is a personal favorite of mine as it is a sweet reminder of what the authentic love of Jesus looks like. We learn in Holy Scripture, the attributes of faithful love are patience, kindness, forgiveness and slowness to anger, and that "it does not rejoice over wrongdoing but rejoices with the truth. It bears all things, believes all things, hopes all things, endures all things" (1 Corinthians 13). This holy love is perfectly displayed in the Heart of Jesus. For Jesus is love, and He is offering us His Heart as a reminder of this love.
The Gospels tell us that the Good Shepherd is willing to leave the fold to find the lost sheep and rejoices over finding it. We read, "there will be more joy in heaven over one sinner who repents than over ninety-nine righteous people who have no need of repentance." Let us turn to the Heart of Jesus asking for new graces so that we can return to His Most Sacred Heart and invite others to do so as well. When we encounter this loving Heart we can not help but be filled with gratitude and want to spread His Kingdom of love to others.
One of the greatest blessings of being a Catholic is understanding that we can honor the Heart of Christ and seek out His graces to perform loving acts of reparation for those who have offended the Lord. These acts of reparation serve as a way to show Christ that we love Him through our willingness to offer our sacrifices to make up for the transgressions of others. A powerful way to do this is to say the Daily Offering. When we pray this prayer we offer up the daily "thoughts, works, joys, and sorrows" of our lives to Jesus.
The Feast of the Sacred Heart of Jesus reminds us of how Christ loves us, renews our love for Him and re-commits us to practicing this Devotion.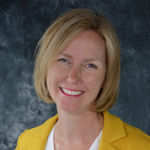 Emily Jaminet is a Catholic author, speaker, radio personality, wife, and mother of seven children. She earned a bachelor's degree in mental health and human services from the Franciscan University of Steubenville. She is the co-founder of www.inspirethefaith.com and the Executive Director of The Sacred Heart Enthronement Network www.WelcomeHisHeart.com. She has co-authored several Catholic books and her next one, Secrets of the Sacred Heart: Claiming Jesus' Twelve Promises in Your Life, comes out in Oct. 2020. Emily serves on the board of the Columbus Catholic Women's Conference, contributes to Relevant Radio and Catholic Mom.com.
Feature Image Credit: fsc, www.cathopic.com/photo/6420-triunfa-amor