Today's Gospel reading is a parable we have heard many times. Jesus uses a teaching style that he wishes us to use. He is speaking to a group of common folk who are mostly uneducated. He is sharing the good news in a manner that could be understood by them all, hopefully. He uses corn seed and a mustard seed to help them understand the message.
First, he speaks of planting corn seed. He explains how the farmer does not know how it begins to grow and eventually pop through the ground as a new plant. As time progresses, corn comes forth on the plant. One does not know how that tiny seed produces corn on the cob. He uses that scenario to show how planting the seed of faith in another person can bring forth new growth, growth in faith, inside the person they are speaking with. That person's mind is unknown to the speaker after they part company. The person spoken to begins to roll over that thought in their his mind and hopefully, with the help of the Holy Spirit, they will begin their faith journey. Then, the hunger to know more kicks in and develops a thirst for Scripture.
Jesus tells a similar story using a mustard seed as the example. The Jews considered the mustard seed to be the smallest of all seeds. Regardless of its size, the mustard seed develops into a tree-like bush. This bush is very attractive to birds that really like to eat the little black seeds. Once again, we don't really understand how it can go from that little seed to the large bush which feeds the birds.
I have a friend who many years ago gave me a little package of mustard seeds which I had never seen. The only thing I can relate them to is specks of black pepper. How anything could grow from something so small into something so large is hard to fathom. I would really like to grow a mustard plant but they don't do well in our climate in Michigan.
When the Lord puts someone in our path who is questioning something about the faith, we want to share with them something that has meaning and is understandable. The Lord wants us to place ourselves at the level of the person we are talking with. I had this experience many years ago and my first night at Kent County jail. As I have mentioned before it's not a place I wanted to go. I was pretty much dragged in there against my will. But I went and ministered there for about 10 years every Saturday night. As I sat there with my friend looking at the 15 men in front of us I was very concerned. They did not look very friendly. But I was wrong. I felt a quiet voice inside of me saying, "Dan, put yourself below them". I did my best. I didn't want the evening to end. The Lord knew how to hook me!
Evangelizing our brothers and sisters is not standing on a soapbox, but just sharing the Good News with others who are hungry to hear it. In fact, they may not know that they are hungry to hear it until they actually do. Now get to work! Don't worry about what to say. The Holy Spirit we'll give you the words. Just ask God to help you and he will. Start small and it will really grow!
Serving with Joy!
---
El Evangelio de hoy es una parábola que hemos escuchado muchas veces. Jesús usa un estilo de enseñanza que él desea que usemos. Le está hablando a un grupo de gente común que en su mayoría no tiene educación. Está compartiendo la buena nueva de una manera que todos puedan entender, con suerte. Usa una semilla de maíz y una semilla de mostaza para ayudarlos a entender el mensaje.
Primero, habla de plantar semillas de maíz. Explica cómo el agricultor no sabe cómo comienza a crecer y, finalmente, emerge del suelo como una nueva planta. A medida que pasa el tiempo, el maíz brota en la planta. Uno no sabe cómo esa diminuta semilla produce maíz en la mazorca. Usa ese escenario para mostrar cómo plantar la semilla de la fe en otra persona puede generar un nuevo crecimiento, un crecimiento en la fe, dentro de la persona con la que está hablando. La mente de esa persona es desconocida para el hablante después de que se separan. La persona a la que se le habla comienza a darle vueltas a ese pensamiento en su mente y, con suerte, con la ayuda del Espíritu Santo, comenzará su camino de fe. Entonces, el hambre de saber más entra en acción y desarrolla una sed por las Escrituras.
Jesús cuenta una historia semejante usando una semilla de mostaza como ejemplo. Los judíos consideraban que la semilla de mostaza era la más pequeña de todas las semillas. Independientemente de su tamaño, la semilla de mostaza se convierte en un arbusto con forma de árbol. Este arbusto es muy atractivo para las aves a las que les gusta mucho comer las pequeñas semillas negras. Una vez más, no entendemos realmente cómo puede pasar de esa pequeña semilla al gran arbusto que alimenta a los pájaros.
Tengo un amigo que hace muchos años me regaló un paquetito de semillas de mostaza que nunca había visto. Lo único con lo que puedo relacionarlos es con pedacitos de pimienta negra. Cómo algo puede crecer de algo tan pequeño a algo tan grande es difícil de comprender. Realmente me gustaría cultivar una planta de mostaza, pero crecen bien en nuestro clima en Michigan.
Cuando el Señor pone en nuestro camino a alguien que está cuestionando algo sobre la fe, queremos compartir con ellos algo que tenga sentido y que sea comprensible. El Señor quiere que nos pongamos al nivel de la persona con la que estamos hablando. Tuve esta experiencia hace muchos años y mi primera noche en la cárcel del condado de Kent. Como he mencionado antes, no es un lugar al que quisiera ir. Prácticamente me arrastraron allí en contra de mi voluntad. Pero fui ministro allí durante unos 10 años todos los sábados por la noche. Mientras estaba sentado allí con mi amigo mirando a los 15 hombres frente a nosotros, estaba muy preocupado. No se veían muy amigables. Pero estaba equivocado. Sentí una voz tranquila dentro de mí que decía: "Daniel, ponte debajo de su nivel". Hice mi mejor esfuerzo. No quería que terminara la noche. ¡El Señor supo engancharme!
Evangelizar a nuestros hermanos y hermanas no es pararse en una tribuna, sino simplemente compartir la Buena Nueva con otros que tienen hambre de escucharla. De hecho, es posible que no sepan que tienen hambre de escucharlo hasta que realmente lo hagan. ¡Ahora ponte a trabajar! No te preocupes por lo que debes decir. El Espíritu Santo te dará las palabras. Solo pídele a Dios que te ayude y lo hará. ¡Comienza con algo pequeño y realmente crecerá!
¡Sirviendo con Alegría!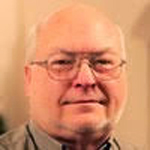 Deacon Dan Schneider is a retired general manager of industrial distributors. He and his wife Vicki have been married for over 50 years. They are the parents of eight children and thirty grandchildren. He has a degree in Family Life Education from Spring Arbor University. He was ordained a Permanent Deacon in 2002. He has a passion for working with engaged and married couples and his main ministry has been preparing couples for marriage.
Featured Image Credit: Markus Spiske, unsplash.com/photos/vrbZVyX2k4I