Prayer
Simplicity
Obedience to God's will
These principles are the foundation of St. Therese's Little Way. In today's Gospel, Jesus gives the Disciples insight into this truth so much a part of St. Therese's teaching. Following God isn't about great heroics, but a reversal of power found where the meek and humble are exalted and the wise and learned fail to understand.
This school year it has been difficult to get my morning prayer habit back into a routine. I have a puppy who wants up well before the alarm and expects my undivided attention even before my eyes are open. There is much to do in the beginning of the school year and it is easier to get my computer out and mark a few things off my to-do list in the morning when the house is quiet.
St. Therese reminds me not only to pray…but to keep it simple. I don't need an elaborate routine or a huge chunk of time. Simply stopping to ask God to keep all of my work in line with his will is enough.
God doesn't look for grand gestures, he wants to be included in our simple, everyday moments. This year we have incorporated prayer more closely in our everyday routines at school. In the morning, before we enter the school, the students and I talk about opportunities to show mercy or kindness to another during the day before we pray the Act of Charity. We pray together before going to lunch. We have incorporated the Prayer after Eating as we take a couple of deep breaths and pray together to transition our bodies and minds from the fun and chatter of the lunchroom back to the focus of the classroom.
These simple routines with my students have led me to attach simple prayers to routine actions I take during the day. I breathe, "Come, Holy Spirit" as I turn on my computer. As I walk through the school and make sure the lights and heat are off, I ask our Blessed Mother to take care of those who inhabit this room for so much of the day. God doesn't want grand acts from me, but to incorporate simple prayer into all I do.
I am so grateful for St. Therese and Her Little Way, a way of humility and childlike trust in our God that leads us ever closer to His will.
Prayer
Simplicity
Obedience to God's will
---
Oración
Sencillez
Obediencia a la voluntad de Dios
Estos principios son la base del Caminito de Santa Teresa. En el Evangelio de hoy, Jesús les da a los Discípulos una idea de esta verdad que es una parte tan importante de la enseñanza de Santa Teresita. Seguir a Dios no se trata de grandes hazañas, sino de una inversión de poder que se encuentra donde los mansos y humildes son exaltados y los sabios y eruditos no logran comprender.
Este año escolar ha sido difícil lograr que mi hábito de oración matutina vuelva a ser una rutina. Tengo un cachorro que quiere levantarse mucho antes de la alarma y espera toda mi atención incluso antes de que abra los ojos. Hay mucho que hacer al comienzo del año escolar y es más fácil sacar mi computadora y marcar algunas cosas de mi lista de cosas por hacer en la mañana cuando la casa está tranquila.
Santa Teresa me recuerda que no solo ore… sino que sea sencilla. No necesito una rutina elaborada o una gran cantidad de tiempo. Simplemente detenerme para pedirle a Dios que mantenga todo mi trabajo en línea con su voluntad es suficiente.
Dios no busca grandes gestos, quiere ser incluido en nuestros momentos sencillos y cotidianos. Este año hemos incorporado más oración en nuestras rutinas diarias en la escuela. Por la mañana, antes de entrar a la escuela, los estudiantes y yo hablamos sobre las oportunidades de mostrar misericordia o bondad a los demás durante el día y luego rezamos el Acto de Caridad. Rezamos juntos antes de ir a almorzar. Hemos incorporado la oración después de comer mientras tomamos un par de respiraciones profundas y oramos juntos para hacer la transición de nuestros cuerpos y mentes de la diversión y la charla del comedor al enfoque del salón de clases.
Estas rutinas simples con mis alumnos me han llevado a agregar oraciones simples a las acciones rutinarias que realizo durante el día. Respiro, "Ven, Espíritu Santo" mientras prendo mi computadora. Mientras camino por la escuela y viendo de que las luces y la calefacción estén apagadas, le pido a nuestra Santísima Madre que cuide de aquellos que habitan esta sala durante gran parte del día. Dios no quiere grandes actos de mí, sino que incorpore la oración simple en todo lo que hago.
Estoy muy agradecida por Santa Teresita y su Caminito, un camino de humildad y de confianza infantil en nuestro Dios que nos acerca cada vez más a Su voluntad.
Oración
Sencillez
Obediencia a la voluntad de Dios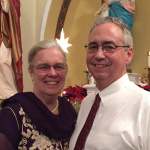 Sheryl is happy to be the number 1 cheerleader and supporter for her husband, Tom who is a candidate for the Permanent Diaconate in the Diocese of Kalamazoo. They are so grateful for the opportunity to grow together in this process. Sheryl's day job is serving her community as the principal for St. Therese Catholic School in Wayland, Michigan. Since every time she thinks she gets life all figured out, she realizes just how far she has to go, St. Rita of Cascia is her go-to Saint for intercession and help. Home includes Carlyn, a very, very goofy Golden Retriever and Lucy, our not-so-little rescue puppy.
Feature Image Credit: Tanaphong Toochinda, unsplash.com/photos/nZhHajBMDu0