When most of us are trying to make a decision, we focus on which option will bring us the most satisfaction. Will this make my life easier, help me feel better about myself, fit into my schedule, etc. Do I want this, or that?
In today's Gospel, we see how Jesus makes decisions: he spends the night in prayer so that he can learn what the FATHER wants. Before choosing the Twelve Apostles (those who are sent) from among the disciples (those who are followers), he consults with the Father, to know what HIS will is, to conform his own will to the eternal, perfect, holy will of the Father. This gives us an insight into the interior of Jesus' own Heart, and into his total communion with the Father: Jesus always desires to glorify the Father by obeying His will in all things, even unto death. Even as Jesus struggles in Gethsemane, he prays, "Not my will, but Yours be done."
This is the model we are called to conform ourselves to in becoming disciples of Jesus, isn't it? We don't conform ourselves in a superficial way, but we conform our hearts to HIS Heart, our wills to HIS will, and we become configured to HIS way of life so that, filled with HIM, the Father looks on us and says the same thing He said at the Jordan and at Tabor: "This is My beloved son." We are His beloved sons and daughters who are called by name to participate in His awesome Plan for our salvation and the salvation of others, and to be with Him beyond the grave.
Tomorrow we celebrate the birthday of Mary, Mother of God and our Mother. Mary is the perfect model for us of complete obedience and a ready "yes" to whatever God asks. She meant her "yes" at the Annunciation all the way to the Cross and beyond, with all that God's will demanded. Let's ask Mary to intercede for us before the Throne of Grace, that we may also conform ourselves through obedience to the Will of God, just as Mary's Heart and Jesus' Heart beat with that one desire.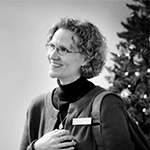 Kathryn Mulderink, MA, is married to Robert, Station Manager for Holy Family Radio. Together they have seven children (including Father Rob), and four grandchildren. She is President of the local community of Secular Discalced Carmelites and has published five books and many articles. Over the last 30 years, she has worked as a teacher, headmistress, catechist, Pastoral Associate, and DRE, and as a writer and voice talent for Catholic Radio. Currently, she serves the Church by writing and speaking, and by collaborating with various parishes and to lead others to encounter Christ and engage their faith. Her website is www.KathrynTherese.com
Feature Image Credit: cottonbro, https://www.pexels.com/photo/photo-of-person-s-hand-with-words-4631066/