Many years ago, on a bright and perfect Michigan morning, my husband and father-in-law decided to take our 14 foot daysailer out on a channel that led to Lake Michigan. Since the boat was too small for Lake Michigan, they had only planned to go to the end of the pier head, but the day was so perfect and the lake was so beautiful, they decided to go out into Lake Michigan. No sooner had they crossed the end of the pier when the winds picked up and the waves grew. We could see the boat starting to get tossed as the waves grew to the point where we were only able to see the itt when it was at the top of the swells. As someone ran to the Coast Guard station for help, we saw the boat capsize and get righted; once, twice. On shore, all we could do was ask for help and then wait. Would help come? Would it be in time?
I sometimes think of that time of fearful waiting during Advent. Advent is also a time of waiting. I prefer to think of it as a peaceful time, more like waiting in a prepared nursery for the arrival of a baby but the reality is more like waiting with a capsized boat, hoping for help. All around us swirls a cultural storm with winds that push for a season of wanting and shopping and buying things that will supposedly bring happiness.
Our Mother, the Church, as always, knows just what we need and it isn't that. The Church offers us shelter from the storm of the frenzied culture all around us. The Church is the safe haven where we can get help, the only help that matters.
"There shall be no harm or ruin on all my holy mountain; for the earth shall be filled with knowledge of the LORD, as water covers the sea. On that day, the root of Jesse, set up as a signal for the nations, the Gentiles shall seek out, for his dwelling shall be glorious."
As I stood on the beach that day and watched the Coast Guard go to rescue my husband and father-in-law, I offered fevered prayers. "Please just bring them home, let us be together again."
Our safe haven is there, within sight. We can take 10-15 minutes to stop into a quiet Church to pray. We can start our day by offering all we have and are to God. Preparing for and going to reconciliation can help us break our ties to the world and allow God room to pour his grace into our lives. It is up to us to decide what we will cling to during Advent. Do we try to please both God and the world? Or do we choose only that which can save us in the long run and focus on holding onto what is true and real?
May your Advent waiting help you to draw ever closer to the Lord.
---
Hace muchos años, en una brillante y perfecta mañana de Michigan, mi esposo y mi suegro decidieron llevar nuestro velero de 14 pies por un canal que conducía hacia el Lago de Michigan. Como el barco era demasiado pequeño para el Lago de Michigan, solo habían planeado ir hasta el final del muelle, pero el día era tan perfecto y el lago tan hermoso que decidieron adentrarse al lago. Apenas habían cruzado el final del muelle cuando los vientos se levantaron y las olas crecieron. Pudimos ver que el bote comenzaba a sacudirse a medida que las olas crecían hasta el punto en que solo podíamos ver el bote cuando estaba en la parte superior de las olas. Cuando alguien corrió a la estación de la Guardia Costera en busca de ayuda, vimos que el bote volcó y se enderezó dos veces. En tierra, todo lo que podíamos hacer era pedir ayuda y esperar. ¿Llegaría ayuda? ¿Sería a tiempo?
A veces pienso en ese tiempo de espera temerosa durante el Adviento como también es tiempo de espera. Prefiero pensar en ello como un momento de paz, más como esperar en un hospital preparado la llegada de un bebé, pero la realidad es más como esperar con un bote volcado, esperando ayuda. A nuestro alrededor se arremolina una tormenta cultural con vientos que impulsan una temporada de querer y comprar cosas que supuestamente traerán felicidad.
Nuestra Madre, la Iglesia, como siempre, sabe exactamente lo que necesitamos y no es eso. La Iglesia nos ofrece refugio de la tormenta de la cultura frenética que nos rodea. La Iglesia es el refugio seguro donde podemos obtener ayuda, la única ayuda que importa.
"No harán daño ni estrago por todo mi monte santo, porque así como las aguas colman el mar,
así está lleno el país de la ciencia del Señor. Aquel día la raíz de Jesé se alzará como bandera de los pueblos, la buscarán todas las naciones y será gloriosa su morada."
Mientras estaba de pie en la playa ese día y observaba a la Guardia Costera ir a rescatar a mi esposo y mi suegro, ofrecí oraciones febriles. "Por favor, tráelos a casa, para volver a estar juntos".
Nuestro refugio está ahí, a la vista. Podemos tomar de 10 a 15 minutos para detenernos en una iglesia tranquila para orar. Podemos comenzar nuestro día ofreciendo todo lo que tenemos y somos a Dios. Prepararnos para la reconciliación y confesarnos puede ayudarnos a romper nuestros lazos con el mundo y permitir que Dios derrame su gracia en nuestras vidas. Depende de nosotros decidir a qué nos aferraremos durante el Adviento. ¿Tratamos de agradar tanto a Dios como al mundo? ¿O elegimos solo lo que puede salvarnos a largo plazo y nos enfocamos en aferrarnos a lo que es verdadero y real?
Que su espera de Adviento les ayude a acercarse cada vez más al Señor.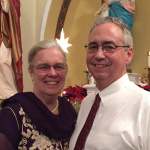 Sheryl is happy to be the number 1 cheerleader and supporter for her husband, Tom who is a candidate for the Permanent Diaconate in the Diocese of Kalamazoo. They are so grateful for the opportunity to grow together in this process. Sheryl's day job is serving her community as the principal for St. Therese Catholic School in Wayland, Michigan. Since every time she thinks she gets life all figured out, she realizes just how far she has to go, St. Rita of Cascia is her go-to Saint for intercession and help. Home includes Carlyn, a very, very goofy Golden Retriever and Lucy, our not-so-little rescue puppy.
Feature Image Credit: Ümit Bulut, unsplash.com/photos/qbTC7ZwJB64