Recently, we realized that as busy as we are in our parishes, in Tom's Formation, and in the Catholic Schools in our area, we weren't bringing our faith home. Don't get me wrong, we often attend or even lead celebrations or prayers for Feast Days or Holy Days. We usually attend at least one weekday Mass besides our Sunday Mass. We have our daily prayer routine and pray the rosary.
But it had gradually gotten to the point where we were so busy, we just couldn't summon the energy or the will to decorate for every Feast Day or plan a special meal or activity at home. We are often glad to simply have a meal at home and not one eaten on the run.
In today's Gospel, Jesus calls the 12 Apostles out of all of his disciples. From being disciples learning at their Master's feet, these men will grow into the roll of Apostle, being sent to evangelize others. But first, they learn by watching and imitating Jesus. If we want to be a good witness for Jesus Christ, we can't exude, "Do as I say, not as I do". Before we can reach out to others, we need to make sure we are following and imitating Jesus, and He honored the Church calendar by feasting and fasting and praying and sharing.
The first step was turning this over to the Holy Spirit and asking for help. Then came some practical steps, like giving myself permission to not be an overachiever. Preparing to celebrate a Feast Day doesn't mean having my house ready for a photo shoot. Small items of beauty draw our focus to God. I also added Liturgical calendar planning to my planning routine. I found a book that was simple, basic, and fit my style to plan ahead for Novenas and make sure I had a plan for Feast Day dinners. Our parish often shares Novenas and prayers to celebrate feast days as well.
As Catholics, our homes are our Domestic Church. It should be where we encounter Jesus in a very personal way. Our culture equates being super busy with success and status. However, if we want to draw others to Jesus, we need to take the time to be sure we have a balance in our lives, where we follow Jesus' example to retreat in prayer before going out to proclaim the Good News.
Like the Apostles, we need to make sure we are learning from and imitating our Master before we are sent. Then our very lives will be our witness.
---
Recientemente, nos dimos cuenta que estábamos tan ocupados en nuestras parroquias, en la formación de mi esposo y en las Escuelas Católicas en nuestra área, que no estábamos trayendo la fe a la casa. No me malinterpreten, a menudo asistimos o incluso dirigimos celebraciones u oraciones para los días festivos o días de santos. Por lo general, asistimos por lo menos a una misa entre semana además de nuestra misa dominical. Tenemos nuestra rutina diaria de oración y rezamos el rosario.
Pero poco a poco estábamos tan ocupados que simplemente no teníamos la energía o la voluntad para decorar cada día festivo o planificar una comida o actividad especial en casa.Nos alegramos de simplemente poder comer en la casa y no a la carrera en la calle.
En el Evangelio de hoy, Jesús llama a los 12 Apóstoles de entre todos sus discípulos. De ser discípulos aprendiendo a los pies de su Maestro, estos hombres crecerán en el rol de Apóstol, siendo enviados a evangelizar a otros. Pero primero, aprenden observando e imitando a Jesús. Si queremos ser buenos testigos de Jesucristo, no podemos exudar: "Hagan lo que digo, no lo que hago". Antes de que podamos acercarnos a los demás, debemos asegurarnos de que estamos siguiendo e imitando a Jesús, y Él honró el calendario de la Iglesia al celebrar fiestas, ayunar, orar y compartir.
El primer paso fue entregar esto al Espíritu Santo y pedir ayuda. Luego vinieron algunos pasos prácticos cómo darme permiso para no ser un triunfador. Prepararme para celebrar un día de fiesta no significa tener mi casa lista para una sesión de fotos. Pequeños elementos de belleza atraen nuestro enfoque hacia Dios. También agregué la planificación del calendario litúrgico a mi rutina de planificación. Encontré un libro que era simple, básico y se ajustaba a mi estilo para planificar con anticipación las Novenas y asegurarme de tener un plan para las cenas los días de fiesta. Nuestra parroquia a menudo también comparte novenas y oraciones para celebrar los días festivos.
Como católicos, nuestros hogares son nuestra Iglesia Doméstica. Debería ser donde nos encontremos con Jesús de una manera muy personal. Nuestra cultura iguala estar muy ocupado con el éxito y el estatus. Sin embargo, si queremos atraer a otros a Jesús, debemos tomarnos el tiempo para asegurarnos de tener un equilibrio en nuestras vidas, donde sigamos el ejemplo de Jesús para retirarnos en la oración antes de salir a proclamar la Buena Nueva.
Al igual que los Apóstoles, debemos asegurarnos de que estamos aprendiendo e imitando a nuestro Maestro antes de ser enviados y de esta forma, nuestras propias vidas serán nuestro testimonio.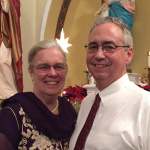 Sheryl is happy to be the number 1 cheerleader and supporter for her husband, Tom who is a candidate for the Permanent Diaconate in the Diocese of Kalamazoo. They are so grateful for the opportunity to grow together in this process. Sheryl's day job is serving her community as the principal for St. Therese Catholic School in Wayland, Michigan. Since every time she thinks she gets life all figured out, she realizes just how far she has to go, St. Rita of Cascia is her go-to Saint for intercession and help. Home includes Carlyn, a very, very goofy Golden Retriever and Lucy, our not-so-little rescue puppy.
Feature Image Credit: cata, cathopic.com/photo/7397-altar-en-hogar